Phil Mickelson Wins Tournaments, Loses 61% of Winnings to Taxes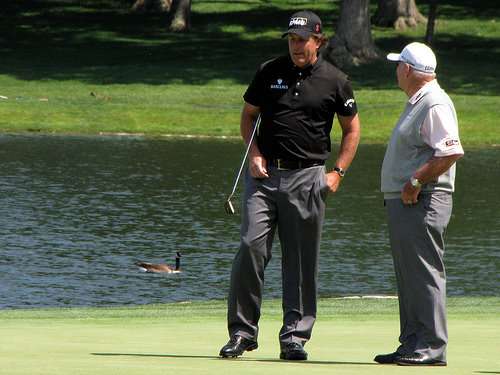 In what ESPN described as "a most improbable win…completed in stunning, awe-inspiring fashion at treacherous Muirfield," Phil Mickelson last week won the British Open. (The week before, he won the Scottish Open.) These hard-fought battles earned the golfer a total of £1,445,000, or roughly $2,167,500. Mickelson gets to keep less than half that.
Forbes provides a breakdown. First, he'll forfeit over 44% to the United Kingdom, despite spending all of two weeks there.
Then, U.S. tax collectors get in on the fun. Although Mickelson can avoid being double-taxed by writing off his gains as a foreign tax credit, he'll pay in other ways. Mickelson is still subject to a self-employment tax and a Medicare surtax. To the state of California, he's obligated to pay another 13.3% of his earnings. In total, one of the world's most successful golfer's is losing 61% of the money he made from the tournaments.
USA Today points out that if the governments gouging him of his gains are not bad enough, "that's before Mickelson pays his caddie, pays for his hotel and expenses, pays his agent, etc," and speculated that when all is through, Mickelson will be left with a meager 30% of his original winnings.
According to Forbes, some professional athletes avoid the United Kingdom like a sand trap:
The UK is one of few countries that collects taxes on endorsement income for non-resident athletes that compete in Britain (the US also does). The rule has kept track star Usain Bolt from competing in Great Britain since 2009, outside of the 2012 Summer Olympics when the tax was suspended as a condition for hosting the Games. Spain's Rafael Nadal has also allowed UK tax policy to dictate his tennis playing schedule.
With a pay of $48.7 million, salary/winnings of $4.7 million, and endorsements adding up to an additional $44 million, Mickelson is ranked by Forbes as the 7th highest paid athlete in the world. Lefty caught flack earlier this year for complaining about the government siphoning off so much of his money. CNBC dismissed his claim made in January that his total tax rate added up to about 60%.