A.M. Links: Obama Approval Rating at Record Low, Obamacare Employer Mandate Postponed Until After Elections, Bolivian Jet Diverted Over Suspicions About Edward Snowden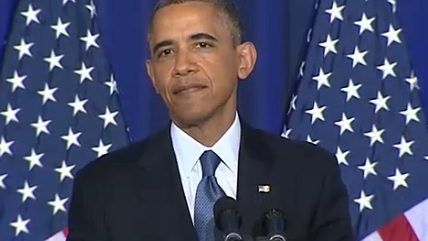 White House

The Presidential Leadership Index notches Barack Obama's approval rating at 43.2 percent, a record low during his presidency, with more than three years left to go.

The Obama Administration is delaying the Obamacare employer mandate by one year, pushing it to 2015, after the midterm elections.
343,000 people applied for unemployment benefits for the first time last week, down from 348,000 the week before.
Bolivia's president is outraged his jet was diverted in Europe and searched on suspicion that Edward Snowden was on it. The Europeans all want to impress their big brother across the pond.
The price of oil hit a one year high, buoyed by worries over the unrest in Egypt. President Obama has inserted himself into the situation by issuing warnings to some of the players in the unrest, which the AP describes as "not intervention."
Dennis Rodman wants a Nobel Peace Prize for his outreach to North Korea.
Encouraging results in two HIV positive patients who no longer show signs of being infected with the virus after getting bone marrow transplants.
Did you write about liberty between July 1, 2012 and June 30, 2013? Reason welcomes you to enter this year's Bastiat Prize for Journalism, with a total prize purse of $16,000.
Follow Reason and Reason 24/7 on Twitter, and like us on Facebook. You can also get the top stories mailed to you—sign up here. Have a news tip? Send it to us!