"Reason Mag Turns 45, Editors Have Managed Not to Kill Each Other"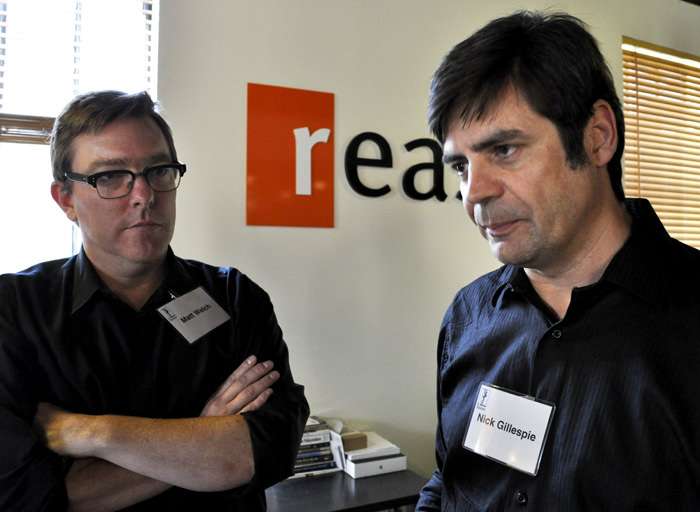 Here's a fun writeup of Reason's recent DC bash celebrating our 45th anniversary (we've held other events in Philadelphia and New York and will be hitting other cities throughout the course of the year to mark the 1968 founding of the nation's only journalistic outfit dedicated to "Free Minds and Free Markets.")
From Betsy Rothstein of Fishbowl DC:
Nick Gillespie and Matt Welch fucking hate each other. Put them in the same air space and you're likely to hear them discuss their persisting feelings of blind rage for each other. Without even a trace of a smile, Gillespie, dressed head to toe in his signature black frock, explains the dynamic between the two. "We have a tight relationship that usually ends in physical violence," he says.

Welch, who is editor-in-chief of the magazine, casts a weary glance in Gillespie's direction: "He's from New Jersey."…

Fishbowl, Austin Price

One senses that the above scene between Gillespie and Welch has played out in variations before. No less funny, whatever the case. Gillespie, who edits the online publication and Reason TV, has been at Reason for 19 years. Welch, since 2002. "I took two years off for bad behavior at the LA Times," says Welch.

When I bring up their searing hatred to another employee, it's explained that they couldn't possibly have that much friction between them — Gillespie spends a portion of the month in Ohio, where his kids live, and Welch moved to Brooklyn a year ago, but visits D.C. often…

By far the weirdest thing in the newsroom is the male pants-less mannequin located by the bar in the main newsroom. It's showing off the black Reason T-shirt….

In the back of the office is a library complete with a gargoyle and skeleton head. The library is the place where journalists go to "think great thoughts," Gillespie explains.
Read the whole thing, replete with fun pics.