Ira Stoll on Andrew Cuomo's Misleading Plan for a "Tax Free New York"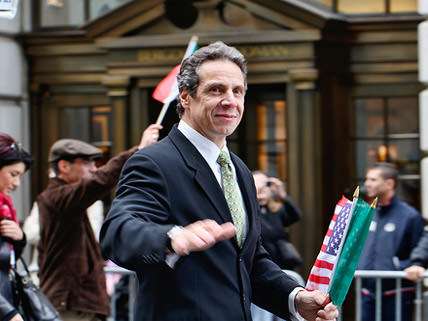 The chief executives of GE, Goldman Sachs, and JPMorgan Chase are lining up behind a plan by the governor of New York, Andrew Cuomo, for what the governor calls "Tax-Free New York."
Ordinary New York taxpayers, watch out. If Cuomo were actually proposing a broad-based tax cut plenty of New Yorkers would be cheering for him. Alas, writes Ira Stoll, the governor, having already hit New Yorkers who earn more than $2 million annually with an estimated $1.9 billion-a-year tax increase, is not proposing to actually make New York "tax free" or even to cut taxes for all taxpayers. Instead the proposal that has the CEOs cheering would offer tax breaks to businesses that locate on or adjacent to a State University of New York campus. The employees of those businesses would have their wages be exempt from state income taxes for five years, and the businesses themselves would not have to pay sales tax or property tax for 10 years.