Conditions at EPA Warehouse: Mold, Rot, Vermin Feces
Environmental protection begins at home. Or maybe not.
Environmental protection begins at home. Or maybe not: The Environmental Protection Agency's Office of Inspector General has released a report [pdf] on the state of one of the EPA's storage warehouses. Among other "deplorable conditions," the investigators found that
Door jambs were corroded; dirt, dust and vermin feces were pervasive; and several items were rotting and potentially hazardous. We observed refrigerators with mold, and old computer bags molding and rotting.
The inspectors also discovered "unauthorized and hidden personal spaces created by and for the workers," which "included televisions, refrigerators, radios, microwaves, chairs and couches" and "were arranged so that they were out of sight of security cameras through the use of screens, partitions and piled-up boxes." There was even a secret DIY gym whose "weights, machines, exercise equipment, and overall exercise area appeared to be well maintained":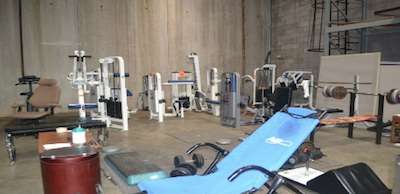 It's all quite ingenious, really. I just wonder if there was a way that ingenuity could have been channeled into, say, removing mold and feces. Just a thought.
The EPA has issued a stop-work order to Apex Logistics, the company contracted to run the warehouse. Apex has received $5.3 million from the agency over the last six years.