Chris Christie Sets Senate Election Primary Date in August, General Election in October
Says he'll make a decision on a Senate appointment relatively soon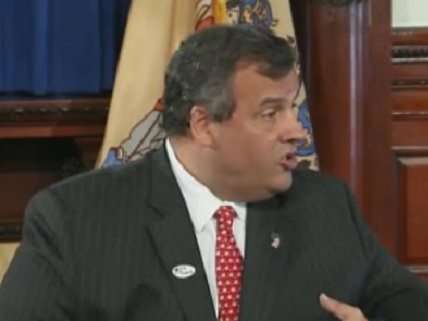 New Jersey will hold a special primary election for the Senate seat vacated by Frank Lautenberg's death on Tuesday, August 13, with a special general election to follow on Wednesday, October 16, the state's governor, Chris Christie, announced in a press conference today. It'll be just three weeks before the gubernatorial general election in which Christie is running. Answering questions from the media, he said he's restricted by statute on the dates, and said it was "irresponsible" to wait even a few weeks to time it out so the special election would be held on November 5. "I'm not going to play politics with this," Christie said. He says he deemed it advisable to hold a special election, as permitted by statute, and says he doesn't care what the costs of the election will be. The state will cover the cost of the primary and general and said anyone who doesn't have time to get the signatures for the special election isn't a viable statewide candidate anyway. Could he be sued? "In New Jersey, people sue over everything," the governor said.
He hasn't named his appointment yet, but said it "wouldn't be right" for his appointment to serve for 18 months, which appeared to be the recommendation of the Office of Legislative Services earlier today. "I'm going to pick the person I believe to be the best person, then that person will determine whether they want to run for election or not," Christie said, saying he's setting no "pre-conditions," though pointed out it wasn't a shock Lautenberg died and says he has a list he'll go through and make a decision relatively quickly, though he wouldn't give "any indication" of who's being considered. "I can't worry about some of the nonsense that gets written," he says, anticipating a backlash for holding a special election a few weeks before his own.
"You got something else to cover and something else to do," he said at the end, addressing reporters on the guberntorial election beat.