Watch Senior Editor Peter Suderman Talk Stimulus Spending on C-SPAN's Washington Journal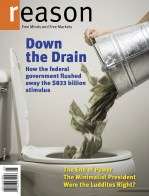 Reason Senior Editor Peter Suderman will appear on Washington Journal on C-SPAN this morning to discuss his May issue cover story on how the 2009 economic stimulus plan was sold, passed, and spent.
Read the cover story here.
Tune in to C-SPAN at 9:10 a.m. to watch Suderman discuss the article with host Libby Casey and take questions from callers.