Islamic Militants Continue to Pose a Threat to the People of Mali and Its Neighbors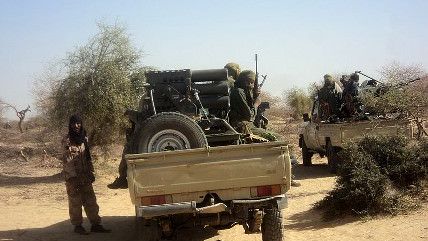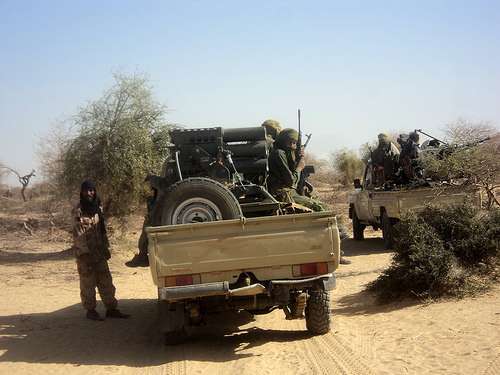 Reason 24/7 picked up two stories from The Guardian this morning that highlight the fact that although the French-led intervention in Mali has succeeded in expelling Islamic militants from much of the territory they captured in northern Mali the surrounding region remains at risk from Islamic terrorism and many areas inside Mali are not secure.
The French-led intervention in Mali may have succeeded in expelling and killing many Islamic militants, but many of the militants are moving north, contributing to destabilization in the region.
From The Guardian:
The Guardian has learned that jihadist groups ejected from their Timbuktu stronghold have moved north, crossing the Sahara through Algeria and Niger to Libya, fuelling a growing Islamist insurgency.

"There are established links between groups in both Mali and Libya – we know there are established routes," said a western diplomat in Tripoli. "There is an anxiety among the political class here that Mali is blowing back on them."

That anxiety escalated last week after militants detonated a car bomb outside the French embassy, wounding two French guards and a Libyan student, the first such attack on a western target in the Libyan capital since the end of the 2011 Arab spring revolution.

"The armed groups we are fighting are fleeing to Libya," said Colonel Keba Sangare, commander of Mali's army garrison in Timbuktu. "We have captured Libyans in this region, as well as Algerians, Nigerians, French and other European dual-nationals."
It should not be surprising that some Islamic militants have fled Mali to stay out of reach of the French military and its African allies. However, militants that have decided to stay continue to wreak havoc on the lives of Malians in areas that the French supposedly liberated. In the northern city of Timbuktu, there are still fears of suicide bombers.
From The Guardian:
The security problems in northern Mali, where militants have lost their grip on towns but large weapons caches are believed to be hidden in the desert, have dampened the jubilant spirit that arose when French forces swept into the region in January. In addition to regular incidents outside Timbuktu, it and other towns in the north have been rocked by a spate of suicide bombings, previously unheard of in the country. Army officials and residents alike say it is impossible to completely eliminate the risk of further similar attacks."No one knows if there will be more suicide bombings," said Bationo. "It is possible at any time. All we can do is continue to patrol the city and the area outside it, and to be vigilant."
France has begun withdrawing troops from Mali, and a United Nations peacekeeping force has been approved.
A presidential election in Mali is scheduled for July. However, Malian officials are not sure that the election will be able to be held as planned. The French-led intervention has succeeded in expelling militants from northern Mali, but it doesn't look like the influence of Islamic terrorism in north Africa is going anywhere soon, and many parts of Mali have yet to be secured and made safe for Malian citizens. Given that the French are leaving Mali we will have to wait and see how successful the UN peacekeeping force will be in dealing with Mali's instability.