What I Saw at the Boston Marathon Bombings
Boston residents wonder if Patriots' Day will ever be the same again.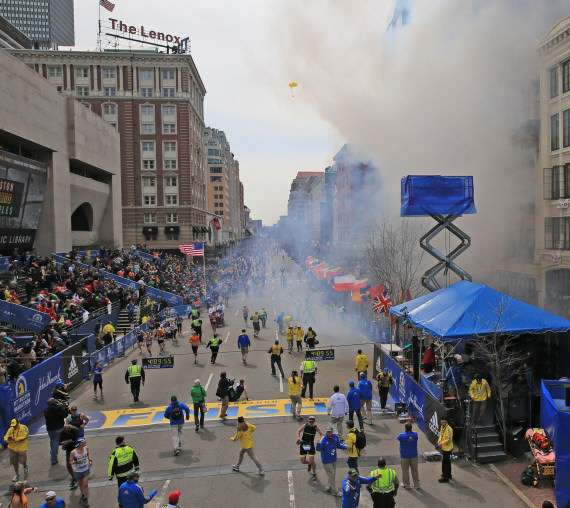 We love to celebrate our Revolutionary War heritage in Boston. We love it so much that we've created multiple holidays to commemorate key events in the war that you non-Bostonians have probably never heard of like Evacuation Day and Bunker Hill Day. The granddaddy of all these holidays is Patriots' Day as it is celebrated statewide instead of just the Greater Boston area. It's a day where people go to a Red Sox game that starts at 11 a.m., start drinking at 9 a.m., and encourage people in much better shape than them to run 26.2 miles all the way to Copley Square. It's a holiday where people celebrate Boston as much as they celebrate the Shot Heard Round The World with nifty reenactments by guys in colonial garb pretending to shoot the British.
Yesterday I passed on the reenactments (they're boring after you've seen them once) and headed to Copley Square to do what most Bostonians were doing: drinking at a bar with friends, complaining about the Red Sox bullpen, and cheering marathon runners while in a heightened state of inebriation. It's something I've done many times before and yesterday's Marathon Monday seemed like just another day of celebration. It was brisk out, so I grabbed a heavier jacket and my camera just before leaving.
Of course I never made it to the bar and ended up spending the evening covering a horrible tragedy. I cabbed it over to as close as I could to get to Copley Square and found a scene that was, at best, calmly chaotic. People were predominantly orderly and first responders appeared to have the situation largely under control, though they provided everyone, including journalists, with very little information as to what was going on. We were stuck at the corner of Newbury and Dartmouth for some time before we were moved two blocks away from the scene of the explosion.
Men in military fatigues and heavily armored SWAT teams were everywhere you turned. Adding to the bizarreness of what I was seeing was the large number of drunks that were in a strange state of terrorism-induced-soberness. People in Red Sox jerseys, clearly under the influence, were walking around in a daze next to lanyarded marathon volunteers. One kept muttering "Holy fuck dude!" while another clad in an Ortiz jersey fumbled with his phone presumably trying to call Mom and let her know he was OK.
As it became clear that we were not going to get any closer I retreated to the patio of a nearby bar to charge my phone. By now hundreds of marathon runners in space blankets were starting to make their way down the Commonwealth Avenue median. They looked like stunned refugees from outer space.
Few wanted to talk but those that did told me that they were pulled from the course around Mile 25 near Kenmore Square. The race was over and nobody was going to officially finish the race at that point. Many were understandably upset about the bombing and the ensuing cancelation of the race. These runners were too far away to hear or see the bombings on Boylston Street so their knowledge of the incident was limited. One runner I spoke with echoed the sentiments of many, saying they were told very little of what happened.
"They haven't told us much of anything," said runner Pat Hogan, 61, of Gig Harbor, Washington.
Others in the parade of distraught marathoners were frantically trying to get in touch with loved ones. One emotionally distraught runner, Frank Mairano, 66, of the Harbor Towers came up to me while I was charging my phone and asked if I could help find his wife. I told him we could try texting her but phones were useless because cell phone networks were overloaded. He then relayed to me his ordeal of being separated near the finish line from the friend he was running with. He was in rough shape but when we confirmed his wife was safe via text message he was overcome with joy and went on his way.
Inside the bar there was a mix of satisfied marathon runners, volunteers, journalists frantically trying to file or charge their equipment, and drunk people. Me and my fellow journo friends abandoned all hope of trying to cross the barriers to get to the press conference so we hunkered down at the bar to watch it. A drunk young couple kept talking loudly throughout the presser before shutting up after being repeatedly shushed. Outside a drunk young woman in a chicken outfit and Red Sox jersey was going back and forth between sadness and loud laughter.
Eventually I took off for a local Catholic shrine that does outreach during major public outdoor events. I found one of the priests talking outside with a handful of people. There were more cops and SWAT officers in military fatigues than people at this point. The Green Line was running again, albeit in a delayed manner, which is actually normal for the pesky old trolley.
The ride home on the oldest subway line in America to file was quiet and somber. Even the drunks on the train were sad. They didn't care about the Red Sox game that took place hours earlier. They just wanted to go home and hug their loved ones.
I did too.