Brickbats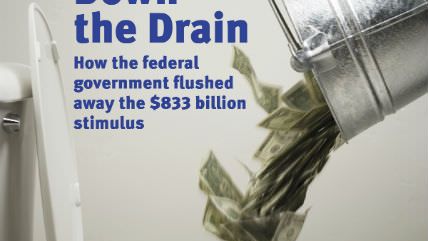 Tammie Jackson says students at Missouri's Central Middle School have been bullying her daughter Gabrielle because of her large breasts. She says that when she complained about the bullying, one official told her that her daughter should get breast reduction surgery.
Former Transportation Security Administration (TSA) agent John W. Irwin has pleaded guilty to stealing $520 from a passenger at Norfolk International Airport. The passenger claimed he had a medical condition that would not allow him to go through the machine and asked to be patted down. TSA agents then selected the man for additional screening in a private room. Irwin used that opportunity to hide cash the man had placed in a plastic bin. Irwin said he did it because the man "had given my fellow employees a hard time."
Officials at Pennsylvania's Mount Carmel Area Elementary School suspended a kindergarten student for making terroristic threats. The 5-year-old girl allegedly threatened to shoot another girl and herself with a pink Hello Kitty soap bubble gun.
Yoav Silverstein and some of his friends used to gather on Fridays to toss around a flying disc at a park in Glen Eira, Australia. A city official stopped them one day, saying they would have to get a permit and pay $120 if they wanted to keep playing an organized sport in the park. That's just for one day. A six-month permit costs more than $300.
Inspections of Air Force bases across the globe uncovered more than 32,000 examples of "unprofessional" or "obscene" material displayed in common areas or stored on government computers. Those included pornographic movies, a video of ventriloquist Jeff Dunham performing with his dummy Achmed the Dead Terrorist, a photo of New England Patriots quarterback Tom Brady without his shirt, and a Ken doll dressed only in swim trunks.
Officials locked down New York's Elmont Memorial High School after someone called 911 to report that she saw a student carrying a lime-green gun. Police searched the school and eventually found a green and yellow Nerf gun.
Immigration and Customs Enforcement officers handcuffed Carlos Estrada Barrintos and his family, forcing them to the floor of their Moore, Oklahoma, home. Although Estrada is an American citizen, the agents insisted he was an illegal alien. He and his relatives say agents showed them a photo of the man they were looking for, and it looked nothing like Estrada. Only after checking his fingerprints did the agents realize they had the wrong man.
Myles Wilkinson of British Columbia beat more than 4 million other fantasy football league participants to win an all-expense-paid trip to the Super Bowl. But U.S. customs agents barred him from entering the United States after they found he had been convicted of possessing two grams of marijuana in 1981.
Charles Oliver