Peter Suderman Reviews Jurassic Park 3D in The Washington Times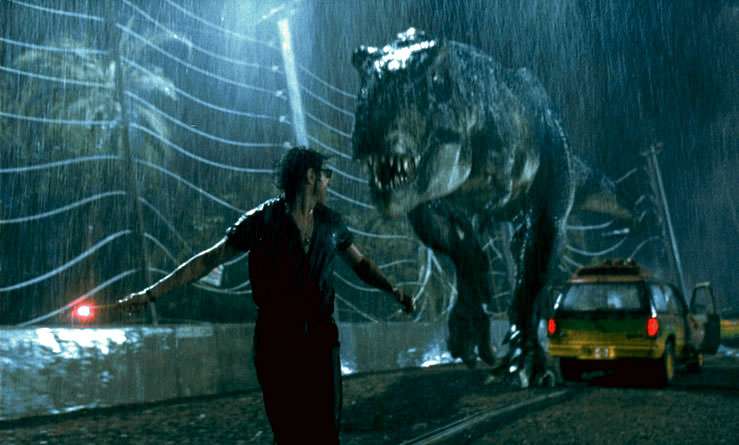 Steven Spielberg's technophobic creature feature, Jurassic Park, hits theaters again today, this time in 3D. In today's Washington Times, Senior Editor Peter Suderman looks back on how the film changed blockbuster moviemaking—and why it's still a great movie:
When "Jurassic Park" — director Steven Spielberg's big-budget, special effects-driven feature about a dinosaur-filled theme park gone disastrously awry — first hit theaters in June 1993, the studio advertised it as "an adventure 65 million years in the making."

Twenty years later, watching it on the big screen still offers a certain historical perspective — not on dinosaurs, but on the evolution of the cinematic creature we know as the summer blockbuster. If you want to know how today's blockbusters came to be the way they are, few films will give you a better idea than "Jurassic Park."

The movie was a Tyrannosaurus-sized success when it first came out, earning $357 million at the U.S. box office, instantly making it one of the most commercially successful movies ever. In the two decades since its first release, the movie has become a popular classic — beloved by former kid dinosaur nuts and remembered fondly by a generation awed by its trailblazing use of computer-generated dinosaur effects.

Starting Friday, the movie takes an anniversary tour through theaters, complete with a 3-D upgrade. Sadly, it's more of a downgrade; the 3-D conversion is unnecessary and distracting, serving mostly to muddy cinematographer Dean Cundey's crisp photography and darken the visibility of Mr. Spielberg's carefully crafted frames.

Even still, the movie is an absolute blast, a classic big-budget thrill ride that deserves its reputation and more. The movie retains an ecstatic, primal intensity, and the relentlessly eventful final hour remains an almost flawless exercise in cinematic high terror. The big set pieces, especially a midfilm encounter with an angry T. rex, are paced with heart-stopping precision; Mr. Spielberg and screenwriters Michael Crichton (who also wrote the novel on which the film is based) and David Koepp dole out information just fast enough that the audience is always a half step behind — still processing the last scare when the next one hits.

It is also arguably the last film by Mr. Spielberg — the blockbuster auteur behind trendsetters like "Jaws," "E.T." and "Raiders of the Lost Ark" — to provoke genuine awe and wonderment. For that, you can credit his innovative but surprisingly restrained use of computer-generated special effects.

"Jurassic Park" represents a turning point in the history of big-screen effects tech. It was among the first megabudget productions to rely extensively on computer-generated animation, with many of its dinosaurs created by microprocessors and digitally inserted into the shots after the fact.