A,M. Links: Obama Unveils Overdue Budget, Puerto Rico Reforms Pensions, South Koreans Not Rattled by the Nuke-y North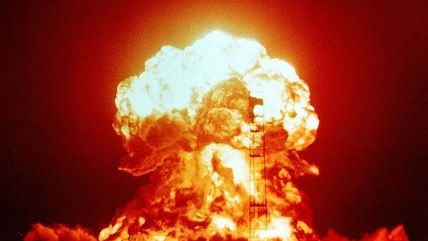 U.S. Government

President Obama, just a few months late, will unveil a budget including tax hikes (surprise!) and cuts to Medicare and Social Security.

Add Maryland to the list of states taking advantage of public panic over Newtown to restrict self-defense rights. Meanwhile, a Texas non-profit is arming people who live in high-crime neighborhoods but can't afford guns.
Reforming wildly underfunded public pensions may be beyond the ability or interest of most state lawmakers, but Puerto Rico's legislators voted to do just that. The plan raises the retirement age, increases worker contributions and reduces benefits. It also transitions over from a defined-benefit system.
Scott Brown may run for office again, but this time from New Hampshire. Well, he wouldn't be the first Bay Stater to head north.
As France's politicians stake their reputation on taxing the hell out of everything, the revelation that now-former Budget Minister Jerome Cahuzac evaded taxes threatens to bring down the Socialist government.
A little more accustomed to crazy neighbors than most, South Koreans aren't letting the nuclear saber-rattling to the north bring them down.
Ohio courts still routinely jail people who fail to pay fines and fees, even though that was long ago ruled illegal.
Have a news tip for us? Send it to: 24_7@reason.com.
Follow Reason 24/7 on Twitter: @reason247
Follow us on Facebook and Twitter, and don't forget to sign up for Reason's daily updates for more content