Arms Trade Treaty Set to Pass United Nations; "U.S. Virtually Certain to Go Along"
Final draft to be approved by UN member-states later today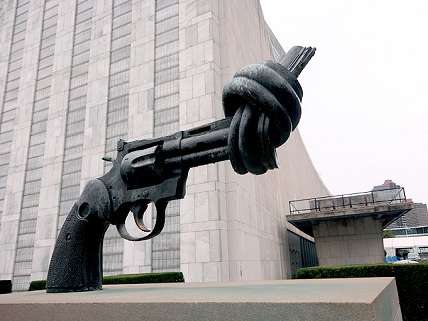 After failing last July to negotiate a treaty on global arms control, the United Nations held a second, final conference this week, with today as a deadline to agree on a treaty. All 193 U.N. member states have to agree on the final draft in order for the treaty to move on to the approval process of individual countries. The Associated Press is now reporting that U.N. diplomats and international gun control advocates are confident the conference will adopt the final draft of the treaty. The optimism will be short lived; the U.S. is the largest exporter of arms in the world. Even though the AP reports UN diplomats are "virtually certain" the U.S. will accept the final draft, the treaty doesn't have the two-third majority in the Senate it would need to be ratified. Oklahoma's Jim Inhofe inserted an amendment into the recent budget bill opposing the UN treaty. The amendment passed with 53 votes, all 45 Republicans plus 8 Democrats, revealing a hostile environment for the treaty.
Ted Bromund, a senior research fellow at the Heritage Foundation, explained earlier this week what the most recent draft of the treaty meant for the United States; the adoption of a "knowledge standard" about humanitarian abuses means the U.S. could be investigated by the U.N. for what it ought to have known about who it was selling weapons too. More importantly for individual firearms owners, Bromund writes that the draft "still refers to 'end users'—individual firearm owners—in Article 11. It effectively makes the definitions of arms contained in the U.N. Register of Conventional Arms nationally binding, which turns part of this voluntary program into a binding treaty commitment and would increase the pressure on the U.S. to include small arms in the formal register." At Fox News, John Lott says the "national control list" the treaty wants each country to maintain could be used to regulate domestic firearm ownership.
Finally, the treaty draft looks set to keep the India-sponsored "defense cooperation exemption," which would exempt arms transfers from one country to another if they had a defense arrangement (don't they all if they're trading arms with each other?) As I pointed out at the outset of this final round of negotiations, although supporters of the treaty insist its meant only to control the international trade in arms, governments' ability to exempt themselves and interpret the meaning of the treaty themselves, its far more likely to be used to regulate domestic arms transfers governments want to crack down on rather than to regulate the arms transfers of the governments themselves.