President Obama Visits Israel, Says Alliance is Eternal
The peace process, Iran and Syria all on the agenda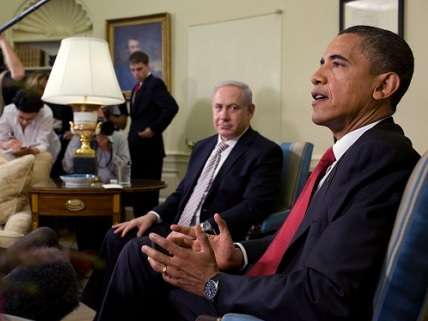 Barack Obama is on his first visit to Israel as president, after insisting in his first term he'd only visit if he had something concrete to accomplish. Both he and the Israeli prime minister, Benjamin Netanyahu, are recently re-elected, and both would have likely preferred to be meeting with the other's opponent. Nevertheless, the president said he was there "to reaffirm the unbreakable bond between our nations, to restate America's unwavering commitment to Israel's security", but, also!, "to speak directly to the people of Israel" (to go "over the heads" of its leaders, as some put it)
America's alliance with Israel is eternal—lanetzach—the president said, and Israel branded the visit "Operation Unbreakable Alliance," with the country in a high state of alert for the 48 hours Obama will be there. After Tel Aviv, the president will be in Jerusalem, which the Washington Free Beacon notes the White House did not identify as part of Israel on the itinerary. The Free Beacon also found discrepancies in the map of Israel used in a White House video (Jerusalem, northern Israel, and areas around the West Bank were not identified as Israeli territory).
Meanwhile, in Jersualem itself Deutsche Welle finds neither Israelis or Palestinians optimistic about what President Obama's visit might accomplish. In 1898, the German broadcaster notes, the sultan of the Ottoman Empire prepared six months for the Kaiser's visit to Jerusalem. Palestinians have set up a protest camp in a region zoned by Israel for settlement (E1) for President Obama's visit. Obama began his first term pushing for a settlement freeze but has since settled for not saying anything about it. Arab hopes for Obama have steadily declined, reports the Guardian, since his 2009 Cairo speech. America, in fact, is less popular now in parts of the Muslim world than it was when George W. Bush was president.
Another big issue on the itinerary is Iran, which President Obama last week told Israeli news was only a year or so away from having a nuclear bomb. Estimates for when Iran would get a nuclear weapon have ranged from 2000 to 2015. On the eve of his trip to Israel, meanwhile, Obama released a video address to the Iranian people on the occasion of the Iranian new year, warning them the country faced increased isolation if its leaders continued to pursue a nuclear policy.
Obama's arrival in Israel comes on the tenth anniversary of the war in Iraq, a war Netanyahu supported (and Obama wanted to prolong) that arguably strengthened Iran's influence in the region. This time, in addition to the looming prospect of war with Iran is a two-year-long civil war in Syria. Israel fears spill-over from that conflict, and will reportedly ask the president for U.S. support for any potential strikes on Syrian weapons convoys headed for Hezbollah in Lebanon. And while Israeli officials have said it was "apparently clear" Syria has used chemical weapons against its people, the White House says there's no evidence of that.
Obama looks likely to continue the tradition of American presidents visiting Israel in their second term, endorsing the U.S.-Israeli alliance, and then not accomplishing much else.