Papal Conclave Selects Argentine Cardinal Jorge Mario Bergoglio as Newest Pope, Likely Runner-Up Last Time Around
Cardinal Jorge Mario Bergoglio is Pope Francis I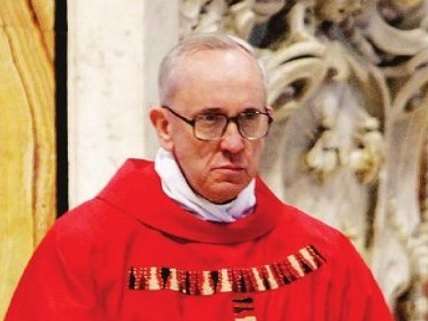 The white smoke was seen coming from the Sistine Chapel earlier today, and the Vatican has announced that Cardinal Jorge Mario Bergoglio of Argentina was elected the Roman Catholic Church's newest pope, taking the regnal name of Francis, a name not chosen by any other pope in the last two thousand years. Reportedly, he was a contender last time around, in 2005. From a profile by the National Catholic Reporter:
After the dust settled from the election of Benedict XVI, various reports identified the Argentine Jesuit as the main challenger to then-Cardinal Joseph Ratzinger. One cardinal later said the conclave had been "something of a horse race" between Ratzinger and Bergoglio, and an anonymous conclave diary splashed across the Italian media in September 2005 claimed that Bergoglio received 40 votes on the third ballot, just before Ratzinger crossed the two-thirds threshold and became pope.

Though it's hard to say how seriously one should take the specifics, the general consensus is that Bergoglio was indeed the "runner-up" last time around. He appealed to conservatives in the College of Cardinals as a man who had held the line against liberalizing currents among the Jesuits, and to moderates as a symbol of the church's commitment to the developing world.

Bergoglio's reputation for personal simplicity also exercised an undeniable appeal – a Prince of the Church who chose to live in a simple apartment rather than the archbishop's palace, who gave up his chauffeured limousine in favor of taking the bus to work, and who cooked his own meals.

Another measure of Bergoglio's seriousness as a candidate was the negative campaigning that swirled around him eight years ago.

Three days before the 2005 conclave, a human rights lawyer in Argentina filed a complaint charging Bergoglio with complicity in the 1976 kidnapping of two liberal Jesuit priests under the country's military regime, a charge Bergoglio flatly denied. There was also an e-mail campaign, claiming to originate with fellow Jesuits who knew Bergoglio when he was the provincial of the order in Argentina, asserting that "he never smiled."
Francis I becomes the third consecutive pope selected from outside of Italy, after a 455-year run of popes from Italy. And because it's the 21st century, the new pope already has a tweet.