Judge: DHS Must Release Body Scanner Safety Reports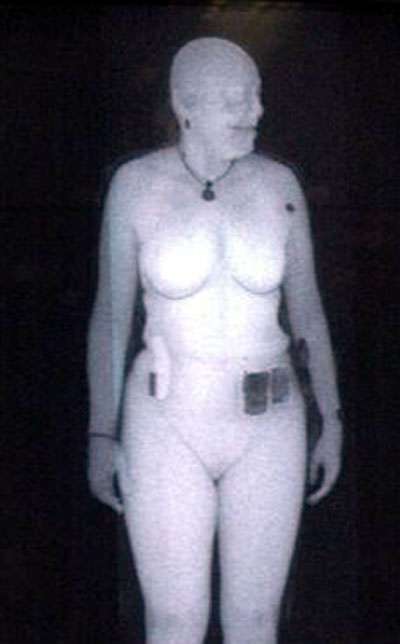 Aside from the privacy-threatening qualities of whole body scanners, which have got the widgets dubbed "nude scanners" and "virtual strip searches," safety concerns have plagued the things, too. They emit radiation — either backscatter x-ray or millimeter wave — which the government in the form of the TSA assures us is harmless. But the tests conducted in-house by the feds often involve machines tested under ideal conditions, not much-used devices indifferently maintained as they are in the real world, so worries persist. Some prominent scientists have gone public with objections to the quality of data seen so far. Now, the Department of Homeland Security has been ordered to release two reports and a Powerpoint presentation that it's resisted producing with claims including the ever-useful "security."
Reports the Electronic Privacy Information Center:
A federal judge has granted EPIC victories in two Freedom of Information Act cases involving the controversial airport body scanners. Judge Royce Lamberth in Washington, DC held that the Department of Homeland Security must turn over two safety reports detailing radiation output by the scanners and a set of power point slides containing details on automated target recognition software. The agency previously claimed it was not required to release the documents to EPIC. EPIC has pursued several related Freedom of Information Act cases as a challenge to the deployment of the devices. In 2011, the DC Circuit of Appeals ruled in EPIC v. DHS that the agency must receive public comments on the decision to deploy body scanners for primary screening.
In terms of what EPIC sought, "[t]he first contested document is a 33-page 2006 report authored by a government official evaluating the radiation safety of a body scanning machine called the 'Dual Smart Check' produced by AS&E. … The second document is a 3-page 2008 report authored by the same government official evaluating a later version of the same machine." The reports include such minor details as "Specific Radiation Dose Levels" and "Assessments of, and recommendations for improving, radiation safety of AS&E Dual SmartCheck."
The Powerpoint presentation was prepared for a congressional committee, and so provides insight into what the TSA is telling lawmakers about its scanning equipment.
The documents aren't exactly exhaustive — they don't cover machines made by all manufacturers, and the list of manufacturers has changed. Rapiscan is out, now, having missed a deadline to make its devices less porn-y. But the reports should offer a peek at what the TSA and DHS are discussing in-house in terms of safety, and not just for public consumption.