Long Island Town Bans Booing, But Not Applause, at Town Hall Meetings
Boo-urns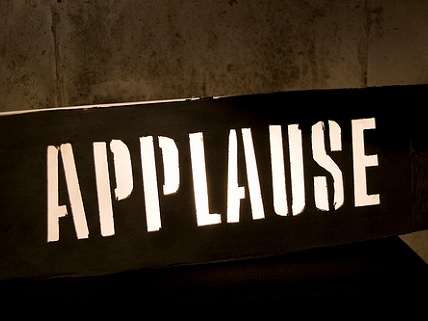 As noted on Reason 24/7, the town of Riverhead on Long Island in New York has banned booing at its town hall. But not clapping. Apparently, an ordinance was introduced to ban any kind of outbursts at town hall meetings, but someone had a problem with that , from a free expression/free speech standpoint. The Riverdale Patch reports:
Dominque Mendez, president of the Riverhead Neighborhood Preservation Coalition, Inc., raised a concern….

As originally written, rule number seven of the new legislation said that "No member of the public shall engage in any demonstration, booing, hand clapping, or otherwise disrupt the formality of a town board meeting."

Mendez suggested the rule "goes far to restrict what's free expression and free speech."

Hand clapping, Mendez said, has been heard at town board meetings during instances including the preservation of the North Fork Preserve. "People clapped and no one minded," she said.
That sounded good enough to town officials:
[Riverhead Town Supervisor Sean] Walter said he was fine with omitting the words "hand clapping" but added that the section regarding forbidding booing and disruptive behavior should remain in the legislation.
"We don't want any booing that's disruptive," he said.

The board agreed and voted to pass the resolution, allowing for applause but no boos.

After the unanimous vote, there was applause in the audience.
It's not exactly free speech if only the kind that supports government action is allowed is it?