Chris Christie Not Worried About Not Being Invited to CPAC: "It's not like I'm lacking for invitations to speak around the country"
Still paying for embracing the president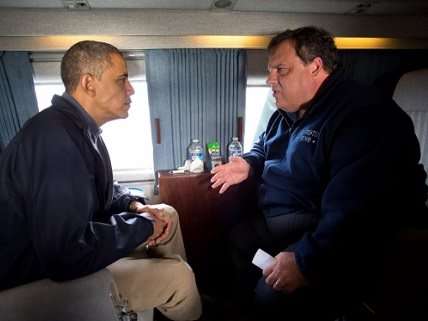 New Jersey Governor Chris Christie's become a sort of persona non grata among some conservative circles since appearing prominently with President Obama just days before last November's election. A massive hurricane had just hit the state, and Christie, like other governors in the region, jockeyed for as much money from the feds as possible. Even the Romney camp pointed to Christie's embrace of Obama in the final hours of the election campaign as a reason their man lost. For his part, Christie explained that Romney lost because he didn't get enough votes.
Christie himself has been mentioned as a 2016 contender since at least year, and while his embrace of the president might be a handicap, it hasn't stopped his supporters on the right completely. The conservative Fox News host Eric Bolling, in fact, touted Christie as the one who could lead Republicans to victory in 2016 on the same day Christie announced he'd expand Medicaid as encouraged by Obamacare.
Christie's most recent punishment for not being faithfully anti-Obama was a non-invitation from CPAC. Christie's response, via the Star-Ledger:
The Republican governor said he didn't notice the snub to next month's annual conference of the Conservative Political Action Committee because he gets hundreds of invitations to speak at events, both local and national.

"Listen, I wish then all the best. They're going to have their conference, they're going to have a bunch of people speaking there. That's their call… It's not like I'm lacking for invitations to speak around the country."

Christie then said he had more important things to worry about.

"I can't sweat the small stuff," he said. "I've got a state to rebuild."
Last year, Chris Christie worked an emphatic groan out of the audience at remarks made at the Cato Institute when he described the crowd as "committed conservatives."