US Provides Drones to Speech-Suppressing United Arab Emirates
Cashing in on tools that will undoubtedly be used to spy on and detain political opposition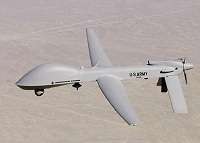 For those who might wonder why Americans fear domestic drones might be used to spy on them, look at who we're selling surveillance drones to. Courtesy of Quartz:
At a weapons bazaar in Abu Dhabi on Feb. 18, defense officials for the United Arab Emirates announced the purchase of $1.4 billion in American military hardware, including $197 million in drones built by General Atomics Aeronautics, which supplies the US military with its Predator and Reaper drones.

While armed forces in the United Kingdom and Italy have purchased and fielded drones that include mounting points for missiles, the aircraft GAA will sell to the UAE will be only be capable of "intelligence, surveillance, and reconnaissance." The UAE's air force will have a good view—but not a view to a kill.
Writer Tim Fernholz makes brief mention of UAE's human rights record, saying the nation has "pushed back against pro-democracy demonstrators."
Human Rights Watch has a bit more detail in their report for the nation for 2012:
The UAE intensified its campaign to silence critics of its ruling elite. Authorities detained 61 human rights defenders and civil society activists without charge on the pretext that they aimed to harm national security. The authorities detained two prominent human rights lawyers, Mohammed al-Roken and Mohammed al-Mansoori, and arrested, deported and intimidated foreign lawyers employed by the UAE law firm that offered legal assistance to the detainees.
The report goes on to talk about issues of torture and the treatment of migrant labor and women. It concludes:
Key allies such as the United States and the United Kingdom have refrained from publicly criticizing the UAE's crackdown on freedom of expression and repression of civil society, although US officials say that they have raised these issues privately. In 2012, the US signed a $3.48 billion dollar deal with the UAE to provide a missile defence system. In June, "industry sources" in Abu Dhabi cited criticism of the UAE in the UK press as one factor in a decision not to invite British oil company BP to tender for 2014 oil concessions.
In December, a British woman in Dubai went to police because she had allegedly been gang-raped by three men. They responded by arresting her for drinking alcohol without a license.