Glider Pilot, 70, Arrested and Questioned by FBI and DHS for Flying Over a Nuclear Power Plant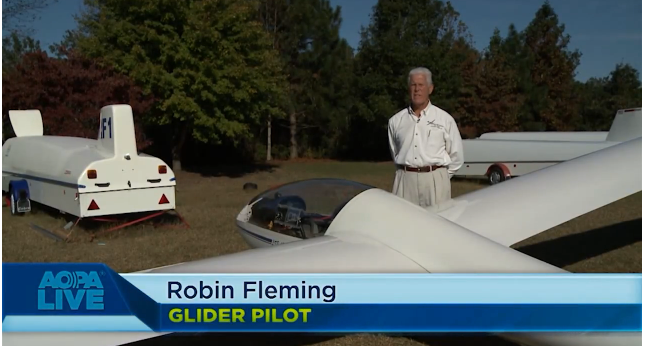 Meet South Carolina glider pilot Robin Fleming, age 70. In the course of an ordinary glider flight last July, Fleming would wind up in custody, locked in a cell for over 24 hours with 11 other inmates. He was questioned by a special agent from the FBI and an aviation security inspector from the Department of Homeland Security.
The charges, which he only learned after a night in the pokey, were for breach of the peace. The crime: flying his Rolladen-Schneider LS8-18 sailplane over the H.B. Robinson Nuclear Generating Station, which is not marked as a restricted zone on aviation maps.
The Aircraft Owners and Pilots Association has the (insanely detailed) report and a great (non-embeddable) video:
No airspace restrictions were printed on sectional charts; no notam marked the area off-limits. When a woman at Hartsville Regional Airport relayed over the Unicom that law enforcement wanted him to land, he had flown to that airport and landed, greeted by a swarm of law enforcement vehicles.
Local law enforcement officials and the Federal Aviation Administration don't think Fleming broke any rules. Because gliders rely on air currents to maneuveur, they often circle and can't land quickly—the two behaviors that alarmed certain authorities:
A better knowledge of aviation issues among law enforcement officials may have produced a better result for Fleming. Griffin said she had to tell the officers on the scene to clear out the runway, and one officer talked about commandeering the airport. "He was running around, the one guy that was commandeering everything, saying, 'We were going to shoot him down,'" she said.

On the other hand, Griffin said that pilots from the Chesterfield County Sheriff flew the department's helicopter to the airport, but left when they found out what was going on. "They pulled out a chart and they said, 'Look here, … nothing in this chart says you cannot fly over the nuclear plant,'" she said. "'Nothing.'"
Via tallyho.