Arizona Sheriff Won't 'Cooperate With Any Unconstitutional Order' On Guns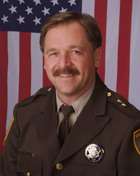 To my certain knowledge, county sheriffs in Alabama, Kentucky and Oregon have announced that they will not help to enforce laws and/or presidential orders that they believe infringe upon the right to keep and bear arms protected by the U.S. Constitution's Second Amendment. To their ranks you can add Sheriff Scott Mascher of Yavapai County, Arizona, the 8,000-square-mile piece of turf where I make my own residence. In response to a query from me about this issue, his office forwarded the guidance that he gave his own staff, dated today.
I wrote Sheriff Mascher two days ago, when the first statements of constitutional concern by Sheriff Denny Peyman of Jackson County, Kentucky and Sheriff Tim Mueller of Linn County, Oregon, made the rounds. This is what I received from the Yavapai County Sheriff's Office:
To: To all YCSO Representatives

Fr: Scott Mascher, Sheriff

For: Information

Re: GUN CONTROL

Date: January 18, 2013

I have received many questions and concerns from our public and YCSO staff about recent gun control issues.

As your Sheriff, I have taken an oath of office to support and uphold the Constitution of the United States, and to protect the people of Yavapai County. I take this oath seriously.

Now we have politicians that want to prevent millions of law abiding, honest Americans from owning certain firearms and magazines because of the mentally ill and violent criminal offenders.

I do not believe that extreme acts of violent criminal behavior should ever misguide a politician into enacting orders or laws that would take away Constitutional Rights and Liberties from law-abiding Americans.

As Sheriff, I refuse to participate or cooperate with any unconstitutional order that will infringe upon our 2nd amendment rights.
Mascher, by the way, is currently president of the Arizona Sheriff's Association. While definitely good on the gun-rights issue, he's also a bit of a border warrior and opponent of the state's voter-approved medical marijuana law. But let's fight one battle at a time.