White House Increases Threshold to Pretend to Care About Your Concerns
If you can get 100,000 folks for your petition, maybe just start a PAC?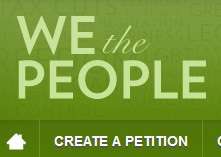 So, if people are so pissed off at the behavior of President Barack Obama's administration that the White House's "We the People" petition site is being flooded with demands, should that be taken that as a sign of success?
Apparently, yes. This is how the White House blog is describing its latest move: Increasing the signature threshold for a petition response from 25,000 up to 100,000. Spin away, White House Director of Digital Strategy Macon Phillips!
When we launched We the People, none of us knew how popular it would be, but it's exceeded our wildest expectations. Through the past year, interest in We the People exploded and we're closing in on 10 million signatures.

When we first raised the threshold — from 5,000 to 25,000 — we called it "a good problem to have." Turns out that "good problem" is only getting better, so we're making another adjustment to ensure we're able to continue to give the most popular ideas the time they deserve.
Phillips notes that the White House has been inundated with petitions over the last couple of months of 2012, many of which reached the 25,000 signature threshold relatively quickly. Also of note (but not mentioned, of course) is that these were organized petition efforts from people who were unhappy with the Obama Administration's behavior and were, among other things, asking to secede from the union.
With this new threshold, only a single active petition on the site now qualifies for a response – one asking for the government to classify the loathsome Westboro Baptist Church as a hate group for saying things people don't like in ways that people really don't like. Phillips doesn't mention whether any of the petitions that had already reached the previous threshold would get a response. Some of these petitions have been sitting unanswered for months.
Not that the White House's responses are all that "responsive." I challenge anybody to find a petition response where the White House isn't simply providing a justification for what the administration is doing, wants to do, or has already done rather than an indication of the administration actually changing a position based on public dissatisfaction.