Military Suicides Outpace Combat-Related Deaths in U.S. Military for Fourth Year in a Row
349 suicides in the military last year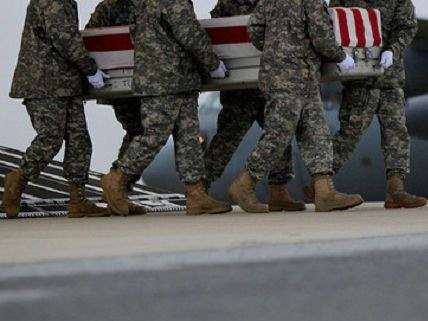 The number of suicides in the U.S. military in 2012 outstripped the number of combat-related deaths for the fourth year in a row, reaching a record high. The number of suicides has been steadily increasing since 2004, and rose 16 percent last year (to 349 from 301, exceeding even the Pentagon's projection of 325). Back in September, the outgoing defense secretary, Leon Panetta, talked to USA Today about what might be fuelling the rise in suicides:
Part of it I think is due to a nation that's been at war for over a decade. You have repeated deployments and sustained combat exposure to enormous stresses and strains on our troops and on their families that produced a lot of seen and un-seen wounds that contribute to the suicide risk. At the same time, we're dealing with what is a broader societal problem. I think CDC (Centers for Disease Control and Prevention) said something like 37,000 are committing suicide nationally. And that means we have to deal with some of the broader societal issues: substance abuse, financial distress, relationship problems, the kind of risk factors that endure even beyond our involvement in war. So it is, I think, very much a problem that not just the military, but society in general has to confront and deal with.
In the interview, Panetta said he was making suicide prevention a top priority. But it's not a new problem. In 2009, suicides in the army hit their highest rate since the Vietnam War. By 2010, military leaders were already expressing concern with their failure to reverse the trend. From a Time article dated April 3, 2010:
"It's frankly frustrating that with the level of effort that we've put out there, that we haven't stemmed the [suicide] tide," General George Casey, the Army's top officer, told a House panel March 23. When pressed by a lawmaker the previous month on whether the Army was getting closer to solving the challenge, Army Secretary John McHugh was blunt. "Sadly, the answer is not much closer," he told the Senate Armed Services Committee Feb. 23. "As to why people take this step — particularly as to why men and women in uniform do — we're still in many ways befuddled."
Last July, the U.S. Army provided at least $3 million to the University of Indiana to develop an anti-suicide nasal spray. Suicide is also the leading cause of death among soldiers in the Israeli Defense Force. Nearly a third of U.S. military suicides between 2005 and 2010 were committed by troops that had never been deployed.