Florida State Trooper Who Pulled Over Speeding Cop Sues 88 Officers in 25 Jurisdictions
Police union initially called trooper's actions unprofessional even though the cop was speeding at 120 mph to go to a second job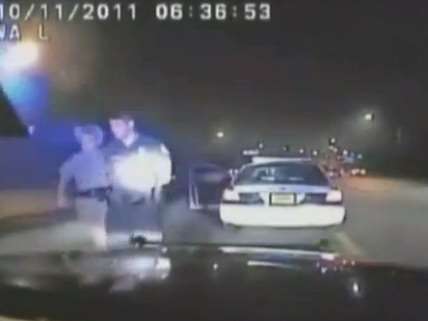 Did you hear the one about the state trooper who pulled over a cop car speeding at more than 120 miles per hour on the Florida Turnpike? (Full video here, excerpts below) The incident happened back in 2011; Donna Watts, a Florida state trooper, pulled over Miami police officer Fausto Lopez, who was off-duty and headed for a second job in his patrol car. His colleagues at the Miami Police Department jumped to his defense, with one union official calling the trooper's actions "completely unprofessional and very reckless." Retaliations began soon after. Almost a year later Officer Lopez was finally fired for the incident.
Now, the Orlando Sun Sentinel reports that the state trooper has filed a lawsuit related to the retaliation she experienced after the incident. From the Sun Sentinel:
Trooper Donna "Jane" Watts' 69-page lawsuit, filed in federal court Friday, seeks more than $1 million in damages. She is suing more than 100 police officers and agencies, and the Department of Highway Safety and Motor Vehicles. The suit alleges 88 law enforcement officers from 25 jurisdictions illegally accessed her personal information more than 200 times, violating her privacy…

Other agencies have already settled with her and so are not named in the lawsuit, according to Watts' attorney Mirta Desir. Margate, for example, settled for $10,000 after two of its police officers accessed her private information, said Margate city attorney Gene Steinfeld. The two Margate officers each received a letter of reprimand as punishment.
More details on the kinds of retaliations alleged, ranging from sending pizza deliveries to her house to making threatening phone calls, in the Sun Sentinel article.
Video clips of the incident: