Brickbats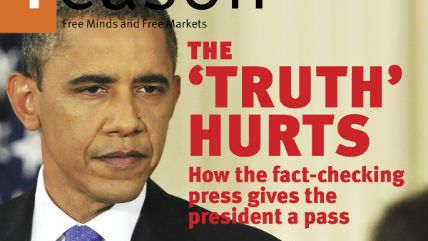 Former Las Vegas police officer John Norman has pleaded guilty to oppression under the color of office and open or gross lewdness. Norman was accused of pulling over two women while on duty, forcing them to show him their breasts, and fondling one of the women.
Alex Kindopp says a teacher at Iowa's Shenandoah Elementary School had students spit on her 9-year-old son after he stuck his tongue out and blew a raspberry at another student.
Chinese officials have apologized to Feng Jianmei for forcing her to abort her child seven months into her pregnancy because she was violating the nation's "one child" policy. The apology came only after images of Feng lying next to the corpse of the child were posted online.
The Cocoa, Florida, city council has voted to ban saggy pants and skirts. Anyone caught wearing pants or skirts that expose underwear or skin more than three inches below the waistline on streets, sidewalks, or other city property faces a $25 fine.
Michael Nash has sued the U.S. Department of Veterans Affairs for $10 million. Nash's attorney says he went to a veterans hospital in Kentucky for penile implant surgery. After surgery, nurses kept ice packs on his groin for 19 hours to reduce swelling. That led to frostbite and gangrene on his penis, forcing doctors to amputate part of the organ.
Former Lakewood, Washington, police officer Skeeter Manos has been sentenced to 33 months in prison for stealing $112,000 donated to the families of colleagues who were killed in the line of duty.
Darrel M. Forrest, a former member of the Kansas City, Kansas, police department's special weapons and tactics squad, has been sentenced to 12 months and one day in prison for stealing cash and electronics from houses where he served warrants.
Jessica Stirewalt, whose daughter Jesslyn attends a public school in Rowan County, North Carolina, got a call from the girl's assistant teacher to say she had cut Jesslyn's hair because the 7-year-old had gotten food in it. To Stirewalt's dismay, Jesslyn, who has Down syndrome, arrived home with eight inches lopped off her hair. Stirewalt says she also received a letter from Jesslyn's teacher saying they had cut the girl's hair because she would not stop taking it down.
Eight police officers responded to a Dorset, England, swimming pool after a man shouted at children who splashed him. Two of the officers, fully clothed, jumped in and dragged him out. They later determined he'd committed no crime and drove him home.
Charles Oliver