U.S. Ambassador Evacuated from Central African Republic as France Rejects Request for Intervention
Rebel alliance approaches Central African capital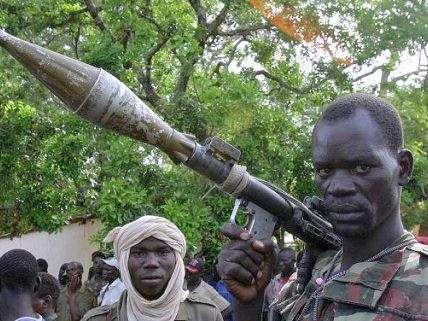 The U.S. Ambassador to the Central African Republic and his diplomatic team, up to forty people, were reportedly evacuated from the central African country overnight and the U.S. embassy was closed amid concerns of an increasingly deteriorating security situation as rebels approach the capital of Bangui. As I noted last week, the rebels threatening the Central African Republic's capital are not the only ones running amok in the country. While the U.S. ambassador was pulled out of the country, American troops remain in the southern region, where they are helping to hunt down a Ugandan rebel outfit, Joseph Kony's Lord's Resistance Army.
The French president earlier this week rejected the idea of intervening in its former colony (preoccupied as it is in a higher-profile interventionist project getting under way in Mali). France's lack of interest in intervention has not stopped the Central African Republic's president from calling for a foreign intervention yet again today in a rally in the capital city.
Intervention, by the French specifically, is nothing new for the Central African Republic. The most prominent post-colonial intervention was in 1979, when a French-backed coup deposed Jean-Bedel Bokassa, who had styled himself an emperor a few years earlier (spending a quarter of the annual national revenue on his coronation). Bokassa had ruled the Central African Republic (later Empire) for fourteen years, and even enjoyed a close relationship with the French president Valery Giscard d'Estaing, who called Bokassa a "friend and family member." The current Central African Republic president, Francois Bozize, served as a Brigadier General under Bokassa and remained in the government after Bokassa's fall, becoming Minister of Information until participating in a failed coup attempt in 1982. He eventually made it back to the halls of power, helping to crush coups as the army chief of staff. Bozize may have been involved in a 2001 coup attempt which saw him once again fall out of favor. In 2003 he finally succeeded in executing a coup and seizing power for himself. He won an election in 2005 and another one after several postponements in 2011. In the meantime, with the assistance of French mirage jets, Bozize was able in 2007 to negotiate an end to an armed rebellion. Those rebels are now focusing on the country's capital, while the French are focusing on Mali to the west.