Drones Invade New York City!
Blanketing lower Manhattan with posters designed to look like official NYPD signage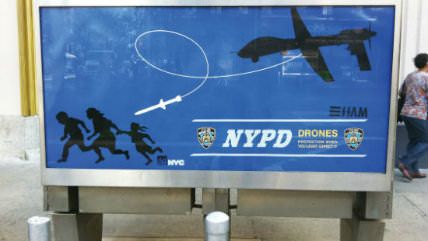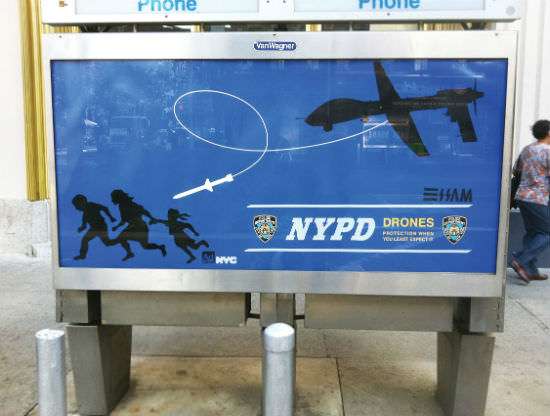 On September 16, 29-year-old "Essam" and a group of friends blanketed lower Manhattan with posters designed to look like official New York Police Department signage. "Drones: Protection When You Least Expect It," read the slogan below simple ideograms of families running from unmanned aerial vehicles. Essam and his team disguised themselves as employees of the outdoor advertising firm Van Wagner, which manages the advertising space on bus stations and kiosks throughout the city. All told, they swapped out about 100 ads.
"We see this trend throughout history of military technology always coming to the civilian world," the Army veteran told Animal New York. He says his goal is for the conversation about domestic police use of drones "to reach a mainstream level where we are talking about this at the dinner table."
The signs went up on the same day as protests to mark the one-year anniversary of Occupy Wall Street, but were unrelated. A graduate student from Maine, Essam told Animal that he "identifies strongly with libertarianism" and chose the date to coincide with a gathering of the U.N. General Assembly and the anniversary of the signing of the Constitution.