How Did Libertarian(ish) Candidates Make Out On Election Day?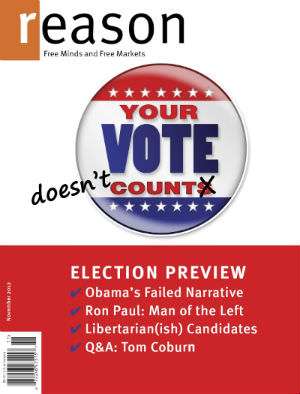 So how did the down-ballot libertarian(ish) candidates I profiled for the November issue make out on Election Day?
Victorious!
Ted Cruz (Texas, Senate)– Cruised (heh) to victory over Democratic opponent Paul Sadler. I profiled the Libertarian in the race, John Jay Myers, here. Cruz joins a fledgling group of small government minded Paulite Republicans in the Senate. Result: Cruz 56.6 percent, Sadler 40.5 percent, Myers 2.1 percent.
Thomas Massie (Kentucky's Fourth)– With a decisive win here you can chalk up another victory to the growing Rand Paul machine in Kentucky. Massie's biggest challenge came during the primary where he faced attorney Bill Adkins. Result: Massie 62.1 percent, Bill Adkins 35.0 percent.
Justin Amash (Michigan's Third) – The "next Ron Paul" in Congress had to fight back some stiff competition in Steve Pestka but his victory was never truly in doubt, and he fared better than Romney in his own district. The Libertarian in the race, Bill Gelineau, was never a major factor. Result: Amash 52.7 percent, Pestka 44.1 percent, Gelineau 3.1 percent.
Jeff Flake (Arizona, Senate) – The congressman managed to claw out a win here over a highly qualified Democratic challenger, former Surgeon General Richard Carmona, even though a Libertarian "spoiler," Marc Victor, loomed large in the race. Result: Flake 50.1 percent, Carmona 45.6 percent, Victor 4.4 percent.
Crushed!
Kurt Bills (Minnesota, Senate) – Largely a sacrificial lamb in a state that never was in play for Republicans this cycle, Bills just never raised the necessary funds to run competitively in such a large state. Plus, the president most certainly would have helped beat back any threat he really posed to Amy Klobuchar. Result: Klobuchar 65.3 percent, Bills 30.6 percent.
Barry Hinckley (Rhode Island, Senate) – The northeast moderate/libertarianish Republican remains on the endangered species list as Hinckley got his clock cleaned by Sheldon Whitehouse in a race that was largely ignored by most national media. Whitehouse was so confident at one point that he spent time campaigning in Massachusetts for Elizabeth Warren. It remains unclear as to what is next for Hinckley, a relative newcomer to Ocean State politics. Result: Whitehouse 64.8 percent, Hinckley 35.2 percent.
Close But No Cigar!
Mia Love (Utah's Fourth) – The promising young Utah mayor will have to wait for another cycle to take a swing at federal office as she fell just short to redistricted Congressman Jim Matheson. Love, who set Republicans hearts ablaze with a passionate yet empty speech at the RNC, appeared slightly favored to win this district given its new configuration but it wasn't enough Result: Matheson 49.3 percent, Love 48.1 percent.
Richard Tisei (Massachusetts' Sixth) – The down-ballot race in my dear Commonwealth I was paying the most attention to turned out to be one where Republicans could cry foul over a Libertarian candidate that "spoiled" their chances. Daniel Fishman, the LP candidate here, made up the difference and more between Tisei and embattled Congressman John Tierney. It's not all Fishman's fault though, as Tierney's win can be largely attributed to the GOTV operation that the highly organized Massachusetts Democrats assembled for Senator-Elect (!) Elizabeth Warren. Result: Tierney 48.3 percent, Tisei 47.3 percent, Fishman 4.5 percent.