Gary Johnson Concedes
While Libertarian Party history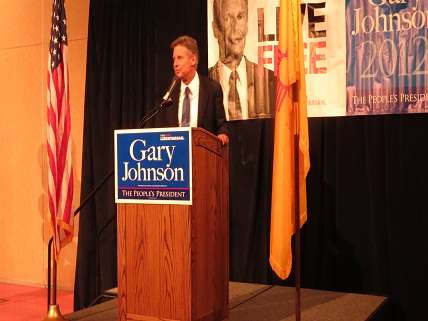 ALBUQUERQUE – A tired and defiant Gary Johnson delivered a concession speech to supporters shortly before 10 p.m. Tuesday night, whacking the major parties and hinting at a 2016 run in the process.
"A wasted vote is voting for somebody you don't believe in and there were a lot of wasted votes tonight. There were more wasted votes tonight than I've ever seen," said Johnson.
The Libertarian nominee took pot shots, again, at the idea that he played the role of spoiler in the 2012 election.
"We all should be proud of ourselves because over the next four years none of us are gonna have to say we are responsible for this. I didn't vote for either one of 'em, I voted for Gary Johnson," he said.
All night long, Johnson staffers, including campaign manager Ron Nielson and communications director Joe Hunter, were pestering the press corps about the latest returns. The Johnson campaign did not have a war room for return watching so they set up their own spot at the very sparsely populated press table. Early on when Johnson was hovering around .4-.6 percent of the vote the Johnson campaign kept saying that their numbers would take off in the western portion of the country. They were right.
Johnson made Libertarian Party history last night. With 1,139,562 votes, he passed Ed Clark's 1980 record of 921,128 votes (as total percentage, he fell .06 percent short of Clark's record). But he wasn't even around to celebrate the occasion. Shortly after speaking, an exhausted Johnson turned in for the night. Less than an hour later, he hit one percent.
As soon as results from the Mountain West started to trickle in Johnson's percentage slowly crept up to the 1 percent mark.
Johnson staffers like Apollo Pazell, who appeared largely content with the trickle of votes, became increasingly antsy as Johnson closed in on single digits. Every fifteen minutes or so he came over to view the expanded national returns map I was viewing. After 10:35 p.m., Johnson topped the 1% mark for an extended period of time for the first time that night.
"Beating the record is a great success but you know we all expected to do better. I think Gary would be the first one to tell you that we expected to do better," said Pazell, a veteran of the Newt Gingrich and Hillary Clinton campaigns.
Others, like Johnson's Ohio volunteer coodinator Debbie Dean, were more disapointed in the results "I felt that, for Ohio, at least we were going to be between three and five. It's a let down," she said.
Dean said the silver lining to Johnson getting one percent was that his campaign organized and networked Libertarians like neve before, plus the next generation of voters appears to be increasingly libertarian.
Near midnight, as the Johnson inner circle started to gather near the center of the empty hall that held Johnson's party, Ron Nielson sounded optimistic going forward, noting that they've built a large nationwide organization that Johnson could tap into in 2016 if he were to run.
"It's all about exceeding expectations and there's an expectation there before of a watermark line, and we crossed that watermark line, well, we exceeded expectations," said Nielson.