As Gary Johnson Hovers Below 1 Percent, Talk of 2016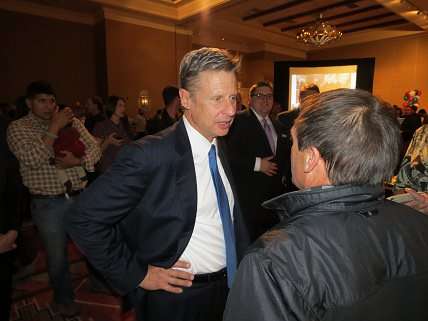 ALBUQUERQUE—As Libertarian presidential candidate Gary Johnson continues to hover just below 1 percent of the popular vote, talk of a possible 2016 run permeates his Election Night party.
At a packed dinner sponsored by Johnson's 501 (c)(4) OUR American Initiative, his running mate Judge Jim Gray implored Libertarians to do everything in their power to get Johnson to run again in 2016.
"I will continue to ask people here and around the nation to help me do everything we can to convince Governor Gary Johnson to run for president of the United States as a Libertarian in 2016," he said.
When Johnson took the podium at the dinner he explained that after the election he is going to take to the road under the banner of the OUR American Initiative, touring college campuses and doing media appearance all through 2013. Johnson campaign staffers as well as supporters have mixed things to say about a potential 2016 run but the consensus appears to be it is a course Johnson is seriously considering. Johnson hinted about it during his speech.  
"I feel flattered about doing this again in 2016. I just want you to know that when it comes to that question I think the the last thing anybody wants to hear is you're going to run again when this election is just upon us. I think everybody is ready to throw up when you talk about politics!" said Johnson.
"We're going to take to the road with a whole lot of momentum. Where does it end up? Who knows," Johnson said.