Victoria's Secret Helps Out The National Guard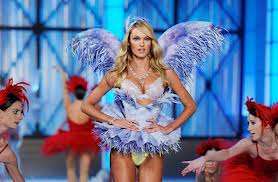 Victoria's Secret has saved the National Guard.
On Monday night Superstorm Sandy left the armory of the New York Army National Guard's 69th Infantry Regiment without power. Thankfully Victoria's Secret was in town for an event at the Regiment's armory, and had brought in huge generators. The National Guard reached out for help from the producers of the show. Power was restored hours later:
For the show, the producers had hauled in eight massive 500 kilowatt generators. Of course, the producers said, we'd be happy to help. Hours later, the lights flashed back on.

"We were dead in the water until Victoria's Secret showed up," says Capt. Brendan Gendron, the Regiment's operations officer.

It's one of many unexpected turns the New York Army National Guard has been forced to take as it copes with the chaotic aftermath of Hurricane Sandy. On Tuesday afternoon, the Guard was about to ship 450 soldiers to Missouri for a mock disaster drill. Now, not only are those troops staying in-state, but the New York Guard is getting ready to accept nearly 1,000 additional soldiers from the Ohio, Massachusetts, and other states.
The National Guard also turned to Victoria's Secret for help distributing food provided by FEMA. For some reason a lingerie retailer was better equipped to distribute food in the aftereffects of a natural disaster than FEMA and the National Guard, and was on hand to provide a fork lift:
The troops also needed help distributing food. The Federal Emergency Management Agency had begun bringing tractor-trailers' worth of emergency provisions to the armory. It was up to the troops to break up the pallets, load them in military trucks, and bring them to the seven distribution centers in Manhattan where the Salvation Army would hand out meals to Hurricane victims. One problem: the 69th didn't have a fork lift. So again, they turned to the Victoria's Secret crew.
Read more on private sector disaster relief here.