Jacob Zuma, South African President and Former Alleged Rapist, Complains About Media Freedom
Some confusion among the political class about rights and privileges and the power dynamic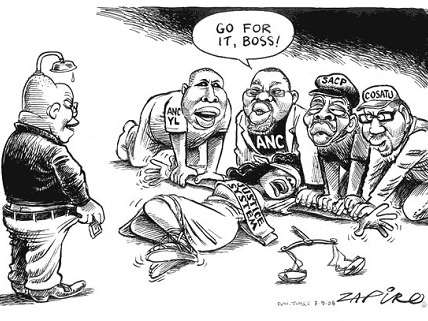 According to Jacob Zuma, the president of South Africa, who was accused of and subsequently acquitted of rape charges seven years ago (at trial he also claimed taking a shower after having sex with the HIV-positive woman helped protect him from the disease), media freedoms are something he believes in but "access to the media" is also a privilege, one the South African president appears to want to have the power to revoke.
Via Reason 24/7, Zuma today dropped a lawsuit against a South African cartoonist who drew the South African president preparing to rape the justice system (pictured right) Because Zuma is part of a growing cadre of world leaders confused about what a right is, Zuma claimed that the cartoonist violated his "right to dignity." This right to dignity, apparently, doesn't extend to what powerful politicians do to the people they wish to rule. In any case, Zuma was charged with corruption more than 750 times, so the amount of dignity he has left is a matter of debate.
Nevertheless, while dropping his lawsuit Zuma used it as an occasion to push more government controls on media. Via ABC News:
Zuma said his government's proposed Media Appeals Tribunal is designed to assure those rights [to dignity and "privacy"] in South Africa, where the president's complaints against some in the local press have brought this tension into sharp focus.

A media tribunal would "strengthen, complement and support the current self-regulatory institutions" such as the press council, said Zuma, speaking to the Foreign Correspondents Association Monday.
There is some he said-he said about why the lawsuit was dropped, and the cartoonist, of course, would have preferred to go to court:
Zuma said he agreed to drop that case after the newspaper conceded it had defamed him. The Sunday Times said over the weekend that Zuma's lawyers agreed to withdraw the case without conditions and to pay half of the newspaper's legal costs.

Zuma said he still would like an apology from the newspaper, even though he is not demanding it.

Shapiro, whose professional name is Zapiro, said he had "mixed feelings" about Zuma's withdrawal of the case "because I would have liked to go to court and I believe we would have won hands down," according to the Sunday Times.