Texas Game Warden Investigates Man Who Ate Dead Bird He Found in His Yard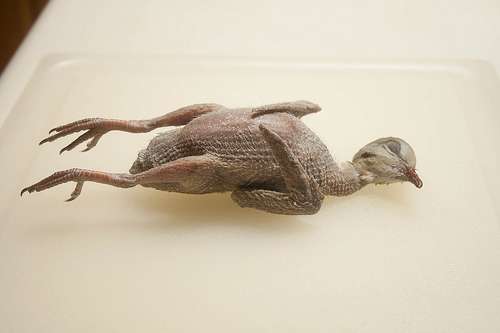 Texas food blogger Ryan Adams thought the universe had dropped a present in his lap when a rare white-winged dove smacked into his living room window, breaking its neck. Dove hunting season had started the day before, so Adams decided to clean, dress, and grill his find, as well as document the experience at his very good food blog, Nose to Tail at Home.
But shortly after Adams posted his tale and accompanying pictures online, a game warden from the Texas Parks and Wildlife came knocking on his door:
"It is illegal to possess any wildlife resource that has not been taken legally," [Texas Parks and Wildlife spokesman Steven Lightfoot] Lightfoot explained [to local TV station CBS 11]. "By legal I mean there are certain means and methods… you have to have a hunting license and you have to have the appropriate weapon and ammunition."

Lightfoot says Adams would have had the right to eat the bird if he had legally hunted it and since those weren't the circumstances he should have turned it over to a game warden.

The state agency is now investigating Adams. While the evidence in the case has been eaten, Adams made the 'mistake' of posting step-by-step pictures of his "epicurean dove cook-out" on his blog.
On October 12, CBS 11 reported that the agency had decided not to fine Adams for eating the dead bird he found in his yard.
I wonder if that was a tough call for the bureacrats at Texas Parks and Wildlife?