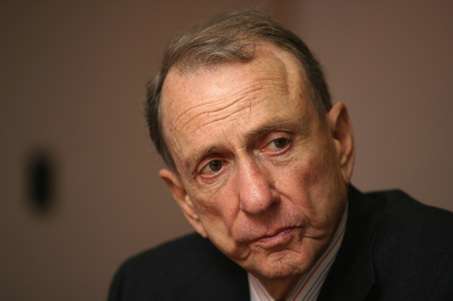 Arlen Specter, the longtime Pennyslyvania senator who left the Republican party in 2009 to join the Democrats but then went on to lose his 2010 Senate reelection bid, died this morning at his Pennsylvania home.
From the New York Times obit:
Hard-bitten and tenacious yet ever the centrist, Mr. Specter was a part of American public life for more than four decades. As an ambitious young lawyer for the Warren Commission, he took credit for originating the theory that a single bullet, fired by a lone gunman, had killed President John F. Kennedy.

In the Senate, where he was long regarded as its sharpest legal mind, he led the Judiciary Committee through one of its most tumultuous periods, even while battling Hodgkin's disease in 2005 and losing his hair to chemotherapy.

Yet he may be remembered best for his quixotic party switch in 2009 and the subsequent campaign that cost him the Senate seat he had held for almost 30 years. After 44 years as a Republican, Mr. Specter, who began his career as a Democrat, changed sides because he feared a challenge from the right. He wound up losing in a Democratic primary; the seat stayed in Republican hands.

One of the few remaining Republican moderates on Capitol Hill at a time when the party had turned sharply to the right, Mr. Specter confounded fellow Republicans at every turn. He unabashedly supported Roe v. Wade, the Supreme Court decision that made abortion legal, and championed biomedical and embryonic stem cell research long before he received his cancer diagnosis.

When he made a bid for the White House in 1995, he denounced the Christian right as an extremist "fringe" — an unorthodox tactic for a candidate trying to win votes in a Republican primary. The campaign was short-lived; Mr. Specter ended it when he ran out of cash. Years later, he said wryly, "I was the only one of nine people in New Hampshire who wanted to keep the Department of Education."
Matt Welch on Specter's party switch here. Brian Doherty on others abandoning the GOP here. Lots more from Reason on Specter here.