Detroit Schools Are Well-Funded, Terrible, and Parents Want Out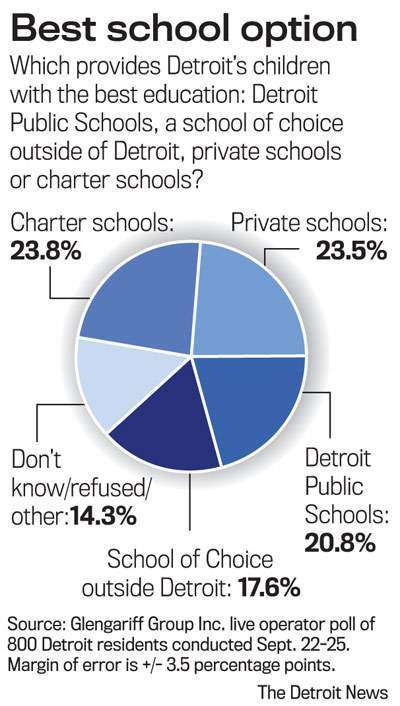 One of the big arguments against school choice wielded by fans of the we'll-all-sink-or-swim-together vision of public education is that alternatives divert resources from public schools, dooming them to starve and fail in their mission. It doesn't take much effort, however, to demonstrate that public schools aren't starving. In fact, they've been feasting — consuming growing resources by the year, with little to show for their efforts. Detroit's public schools spend well above the national average per-pupil, but the results are nothing less than catastrophic. It's no wonder that Detroit parents overwhelmingly want out of the public schools.
The Census Bureau reports (PDF) that Detroit Public Schools spent $12,801 per-pupil in 2009-2010. That's pretty impressive, since the headcounters also say "[t]he nation's elementary-secondary public school systems spent an average of $10,615 per pupil in fiscal year 2010." (The Mackinac Center for Public Policy claims (PDF) that Detroit actually spent $15,570 per pupil in 2010.) But with that money, the city's well-funded educrats achieved … not so much. The Detroit Regional Workforce Fund found that 47 percent of the city's residents are "functionally illiterate." According to a local CBS affiliate:
WWJ Newsradio 950 spoke with the Fund's Director, Karen Tyler-Ruiz, who explained exactly what this means.

"Not able to fill out basic forms, for getting a job — those types of basic everyday (things). Reading a prescription; what's on the bottle, how many you should take… just your basic everyday tasks," she said.

"I don't really know how they get by, but they do. Are they getting by well? Well, that's another question," Tyler-Ruiz said.
That's lots of dollars spent to turn out a population that can barely navigate the daily bureaucracy of modern life, let alone enjoy the advantages of full literacy. It should come as no surprise, then, to find that four out of five parents want to send their kids anywhere but the Detroit public schools. From the Detroit News:
The poll was commissioned by The Detroit News and funded by the Thompson Foundation, which has provided funds to charter schools in Detroit but was not involved in collecting data or asking questions in the survey.

Eight hundred residents were surveyed by land line and cellphone Sept. 22-25 by the Chicago-based Glengariff Group Inc. The survey, with a margin of error of plus or minus 3.5 percentage points, asked residents' feelings about leadership, schools, transit, quality of life and overall optimism.

Of the residents polled, 79 percent said they would choose an option other than DPS for their child's education, such as a charter school, a private school or a school outside Detroit.
So … What to do? Let those parents seek an education for their kids elesewhere? Or fret that their departure will somehow lead the public schools to a worse fate than they've inflicted on themselves?