So, Who Can Ron Paul Actually Vote For Anyway?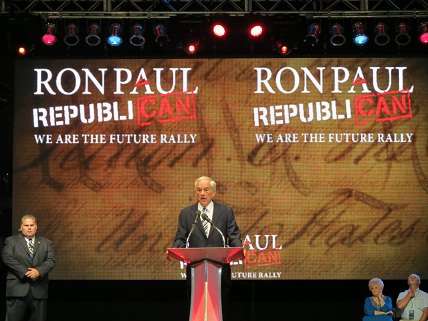 The speculation over who Ron Paul will vote for continues to bubble up as election day nears. His latest comments during a Fox Business interview have led to more speculation that Paul will vote third party in November.
"I obviously haven't announced in support for Romney, so that means that's very unlikely and I don't think anybody thinks I'm going to vote for Obama. So it's back to that frustration level in not seeing a dramatic choice in how the system works," Paul said in that interview.
"Tonight there's a debate going on and if you come to the conclusion that the candidates aren't all that different, why do we have to just listen to two of them?"
"There are other people who are technically capable of winning because they're on a lot of ballots," Paul said.
Libertarian Party nominee Gary Johnson and Green Party nominee Jill Stein are on the ballot in enough states to actually win the presidency. (Constitution Party candidate Virgil Goode is not.)
When asked directly by interviewer Connell McShane if he would support Johnson, Paul said, "I haven't decided yet."
As Paul continues to play this song and dance with the media about not voting for a major party candidate while avoiding endorsing a third party candidate, it's time to ask: Who can he actually vote for in his native Texas?
The Lone Star State will only feature four candidates for president on its ballot: Romney, Obama, Johnson, and Stein. Goode, along with several others including former Salt Lake City Mayor Rocky Anderson, are qualified as official write-in candidates and will have their vote totals tabulated by the state.
Ideologically, Goode and Johnson appear to be the most likely contenders for Paul's vote as both are real small government types. Stein may agree with Paul on things like foreign policy, civil liberties, and the war on drugs, but the similarities end there. Johnson and Paul disagree on abortion, while Paul and Goode differ on the drug war, but for the most part they agree more than they disagree.
Both Johnson and Goode have established personal and professional relationships with the libertarian icon. In addition to speaking at his shadow convention in 2008, Johnson is said to have a cordial relationship with Paul, while Goode participated in Paul's Liberty Caucus meetings as a member of Congress. Goode reportedly donated $500 to Paul's 2008 presidential campaign.
Paul has a history with both parties, too. In 1988 Paul was the Libertarian nominee for president; in 2008 he endorsed the Constitution Party's presidential candidate, Chuck Baldwin, over the LP's Bob Barr (not completely surprising given the bad blood between the two).
When it comes to down-ballot races in his Texas district, Paul's options are, again, limited to the Democrats, Republicans, Greens, and Libertarians, as they are the only parties with candidates running. Paul has endorsed Ted Cruz, the Republican seeking the U.S. Senate seat in Texas, and Randy Weber, the Republicans seeking his congressional seat in the 14th District.