Presidential Debate Ratings Are Up over 2008. No, Really.
58 million people watched two candidates argue over the relatively small differences between them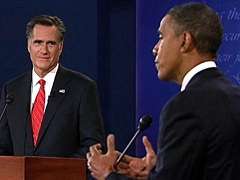 Maybe us cynical political sourpusses need to find a new narrative, too. More people watched last night's debate than watched Barack Obama and John McCain duke it out over our last most important election in the history of America. Via MediaBistro:
More than 58 million people watched the first Presidential debate last night between President Obama and Mitt Romney, up substantially from the first debate in the 2008 election cycle, which had 52.4 million viewers.

Fox News was the most-watched cable news network during the debate, and will likely be the most-watched network on TV, though final broadcast numbers will not be released until after 4 PM.
That's interesting information, given that the ratings for both the Republican and the Democratic National Conventions were down compared to 2008. I may have to revisit my belief that this is entirely a "get out the vote" election.