French Embassies Locked Down as Charlie Hebdo Runs Mohammed Cartoons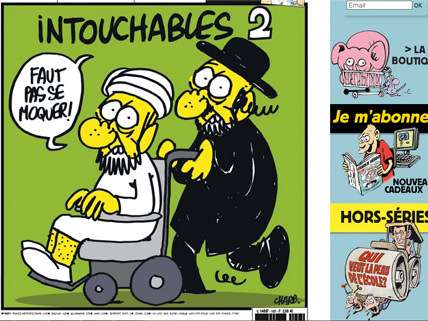 France is bracing for a new wave of attacks on its embassies after a satirical magazine published cartoons ridiculing the founder of Islam.
The weekly Charlie Hebdo ran the cartoons of the prophet Mohammed despite an appeal to the "spirit of responsibility" from Prime Minister Jean-Marc Ayrault, who in a statement expressed support for freedom of speech "within the confines of the law and under the control of the courts."
The magazine's offices were firebombed last November, following another issue featuring Mohammed cartoons. The French government will shut embassies and schools in 20 countries on Friday, the day of Muslim prayer.
The new selections are not featured on the magazine's cover, and they don't sound as funny as the cover picture that sparked the 2011 attack. That one showed the prophet (PBUH) threatening "100 lashes if you're not dying of laughter." Nicholas Vinocur reports for Reuters:
The drawings in satirical weekly Charlie Hebdo risked exacerbating a crisis that has seen the storming of U.S. and other Western embassies, the killing of the U.S. ambassador to Libya and a deadly suicide bombing in Afghanistan.

Riot police were deployed to protect the magazine's Paris offices after it hit the news stands with a cover showing an Orthodox Jew pushing the turbaned figure of Mohammad in a wheelchair.

On the inside pages, several caricatures of the Prophet showed him naked. One, entitled "Mohammad: a star is born", depicted a bearded figure crouching over to display his buttocks and genitals.
No violence is expected from the Orthodox Jewish community, nor for that matter from Britons angry over the publication of topless photos of Princess Kate by papers in France, Italy, Ireland and other countries.
Since last week's anniversary of the 9/11 terror attacks, American embassies have been attacked all over the Islamic ummah. The U.S. State Department and much of the media have blamed this violence on public fury over the trailer for the film Innocence of Muslims (which has once again failed to crack the top 10 in U.S. box office). But in fact the deadly rocket attack on the embassy in Libya (about which the U.S. may have had ample warning) was not accompanied by a popular demonstration, while the mob attack in Egypt was apparently organized in part by the brother of al-Qaeda leader Ayman al-Zawahiri.