Chevy Volt is on the Road to Nowhere Fast, Say Washington Post Editors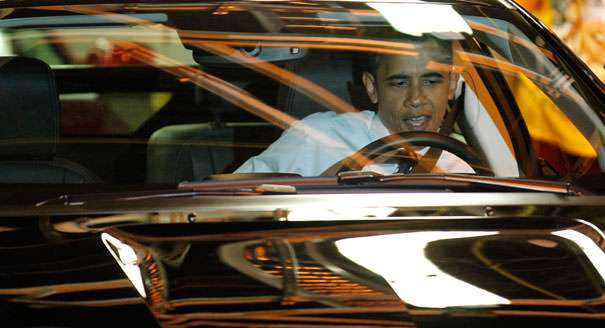 Yesterday, the Washington Post's editorial board published an tough op/ed basically mocking President Obama's pretensions (1 million all-electric vehicles on the road by 2015) about subsidizing an electric car industry into existence. The Post op/ed notes:
The Energy Department study assumed that General Motors would produce 120,000 plug-in hybrid Volts in 2012. GM never came close to that and recently suspended Volt production at its Hamtramck, Mich., plant, scene of a presidential photo-op. So far, GM has sold a little more than 21,000 Volts, even with the help of a $7,500 tax credit, recent dealer discounting and U.S. government purchases. When you factor in the $1.2?billion cost of developing the Volt, GM loses tens of thousands of dollars on each model.

Some such losses are normal in the early phases of a product's life cycle. Perhaps the knowledge and technological advances GM has reaped from developing the Volt will help the company over the long term. But this is cold comfort for the taxpayers who still own more than a quarter of the firm.

The Energy Department predicted that Nissan, recipient of a $1.5 billion government-guaranteed loan, would build 25,000 of its all-electric Leaf this year; that car has sold only 14,000 units in the United States.

As these companies flail, they are taking the much-ballyhooed U.S. advanced-battery industry down with them. A Chinese company had to buy out distressed A123, to which the Energy Department has committed $263 million in production aid and research money. Ener1, which ran through $55 million of a $118 million federal grant before going bankrupt, sold out to a Russian tycoon.

No matter how you slice it, the American taxpayer has gotten precious little for the administration's investment in battery-powered vehicles, in terms of permanent jobs or lower carbon dioxide emissions. There is no market, or not much of one, for vehicles that are less convenient and cost thousands of dollars more than similar-sized gas-powered alternatives — but do not save enough fuel to compensate. The basic theory of the Obama push for electric vehicles — if you build them, customers will come — was a myth. And an expensive one, at that.
In my 2010 column, "Revving Up Electric Cars with Government Cash," I reported about my visit to the brand spanking new Ener1 lithium battery plant in Indiana, funded by an $118 million grant from the Department of Energy.
As my colleague Tim Cavanaugh reported, the company went bankrupt last January. Cavanaugh also noted Obama's State of the Union doubling down on subsidized batteries:
In three years, our partnership with the private sector has already positioned America to be the world's leading manufacturer of high-tech batteries. Because of federal investments, renewable energy use has nearly doubled….

I will not cede the wind or solar or battery industry to China or Germany because we refuse to make the same commitment here. We have subsidized oil companies for a century. That's long enough. It's time to end the taxpayer giveaways to an industry that's rarely been more profitable, and double-down on a clean energy industry that's never been more promising.
Never been more promising? The Post called this a "myth," but it really seems more like a delusion.
See also my colleague Shikha Dalmia's take on the reports that GM is losing $50,000 per copy of the Volt.