DNC Attendee Prefers Tennis To Obama's Speech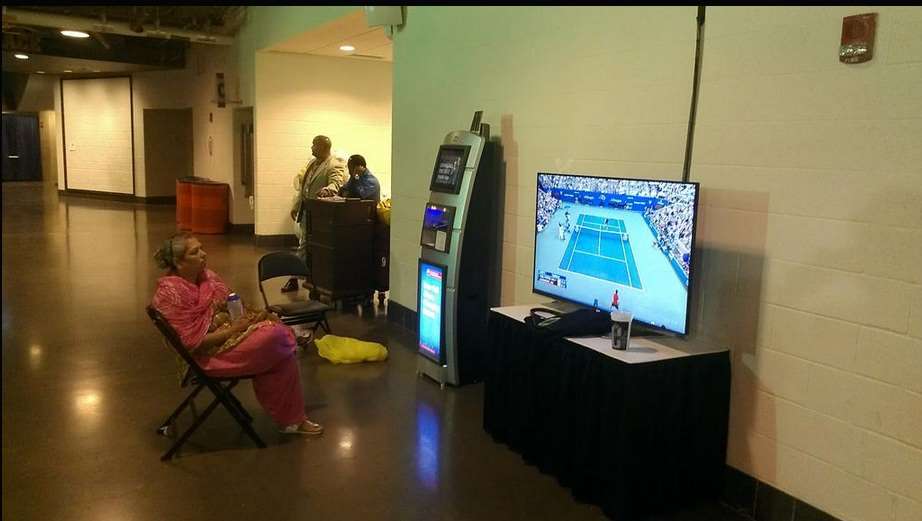 CHARLOTTE – Last night, I wandered through the deserted concourse of the Time Warner Cable Arena between Vice President Biden and President Obama's speeches in hopes of finding some straggling dignitary. Instead I found a middle-aged woman from Virginia watching a quarter-final match of the U.S. Open on a big screen TV.
"Look at that! Look at how intense it is! He was like, down 5-3 and now he is, like, winning!" she told me leaning back in some folding chair.
A handful of cops and security guards looked on bewildered at this odd spectacle. The concession workers nearby were all but ready to close shop. The woman, the wife of a Virginia delegate, declined to identify herself but said she drove to Charlotte to support her husband.
"He's over there and enjoying it," she said motioning to the arena.
She's tired of hearing the president speak and the whole convention, for that matter.
"I've heard him so many times. Last three days I've heard the same thing over and over," she said rolling her eyes.
Her husband got her a pass for all three days of the convention but it relegated her to the extremely steep nosebleed sections of this poorly designed modern arena.
"Oh!"
Serbian Novak Djokovic had just won a set with a crushing serve against Juan Martin Del Porto, an Argentine.
Djokovic is her favorite tennis player.
"I just like him. He was down for much of the summer and I felt sad for him. Now he's playing good so I am enjoying it," she said
But what about the president's speech? Doesn't she care about what he has to say at all?
"The president is OK but honestly, looking at it from all the way back there it's not for me," she said.
"I like my tennis."
Djokovic won 6-2, 7-6, 6-4.