The War in Yemen; 100+ Drone Strikes Since May 2011
Media reports of a drone strike in Yemen that killed ten civilians, including women and children, briefly brings the war in Yemen into focus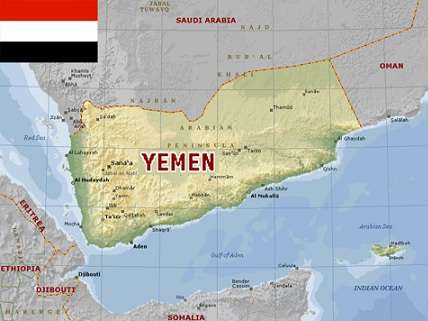 Media reports of a drone strike in Yemen that killed ten civilians, including women and children, briefly brings the war in Yemen into focus. The Bureau of Investigative Journalism's Chris Woods, who covers the U.S.'s evolving war on terror, explains:
When news flashed of an air strike on a vehicle in the Yemeni city of Radaa on Sunday afternoon, early claims that al-Qaida militants had died soon gave way to a more grisly reality.
At least 10 civilians had been killed, among them women and children. It was the worst loss of civilian life in Yemen's brutal internal war since May 2012. Somebody had messed up badly. But was the United States or Yemen responsible?

Local officials and eyewitnesses were clear enough. The Radaa attack was the work of a US drone – a common enough event. Since May 2011, the Bureau of Investigative Journalism has recorded up to 116 US drone strikes in Yemen, part of a broader covert war aimed at crushing Islamist militants. But of those attacks, only 39 have been confirmed by officials as the work of the US.

The attribution of dozens of further possible drone attacks – and others reportedly involving US ships and conventional aircraft – remains unclear. Both the CIA and Pentagon are fighting dirty wars in Yemen, each with a separate arsenal and kill list. Little wonder that hundreds of deaths remain in a limbo of accountability.
With anger rising at the death of civilians in Radaa, Yemen's government stepped forward to take the blame. It claimed that its own air force had carried out the strike on moving vehicles after receiving "faulty intelligence". Yet the Yemeni air force is barely fit for purpose.
And why believe the Yemeni defence ministry anyway? Just 48 hours earlier it had made similar claims. But when it emerged that alleged al-Qaida bomber Khaled Musalem Batis had died in a strike, anonymous officials soon admitted that a US drone had carried out that killing.

There is a long history of senior Yemeni officials lying to protect Barack Obama's secret war on terror. When US cruise missiles decimated a tented village in December 2009, at least 41 civilians were butchered alongside a dozen alleged militants, as a parliamentary report later concluded.

As we now know, thanks to WikiLeaks, the US and Yemen sought to cover up the US role in that attack. We'll continue saying the bombs are ours, not yours," President Saleh informed US Central Command (Centcom)'s General Petraeus.
Meanwhile, the hot war continues in Afghanistan while the president takes credit for presiding over an end to the war in Iraq he actually tried to postpone. The president's war powers letter to Congress in June noted military operations in both Yemen and Somalia, part of an expanding American presence in Africa. And of course there's the centerpiece of the president's drone war kill list campaign, Pakistan.