Can a 'Bad Batch' of PCP Explain the Murder of Two Children?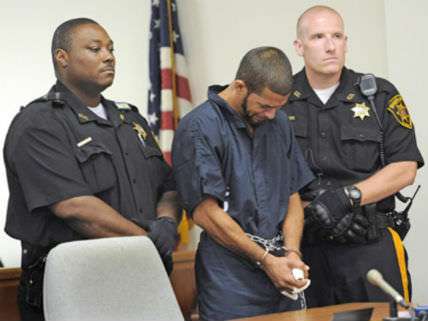 Police in Camden, New Jersey, speculate that "a contaminated batch of PCP" (as A.P. puts it) or "a virulent strain of the drug" (per the Philadelphia Inquirer) is responsible for two recent child murders in that city. Two weeks ago, police say, a 34-year-old woman named Chevonne Thomas cut off her 2-year-old son's head before killing herself. Police say she tested positive for PCP. On Sunday an intruder attacked a 6-year-old boy and his 12-year-old sister as they lay sleeping in their home, cutting both of their throats; the girl, who said she also was raped, survived, but the boy did not. Police say Oswaldo Rivera, the 31-year-old man arrested for those crimes, reported smoking "wet" (PCP-laced marijuana) before attacking the children. "Is there some type of alteration that's being done that has triggered this?" Camden Police Chief J. Scott Thomson asks.
Notably, Thomson does not think PCP itself, long reputed to transform people into irrationally violent monsters with superhuman strength, accounts for these horrifying homicides. Instead he suspects the formula was tweaked in some way that inspires users to cut children's necks—an oddly precise effect that is more reminiscent of a magical spell than a recreational drug. Although Thomson tells A.P. that "PCP has played a role in 10 homicides in Camden in the last four or five years," he seems vaguely aware that the veterinary anesthetic "does not live up to its reputation as a violence-inducing drug," as a review of the scientific literature concluded in 1988. The A.P. story reinforces that conclusion (emphasis added):
While [PCP] is not new to the area, emergency room doctors say they have seen an increasing number of patients on the drug in the past few years. Users can fall anywhere on a spectrum from agitated and aggressive to sleepy and incoherent, but are rarely aggressively violent.

Dr. Al Sacchetti, chief of emergency services at Our Lady of Lourdes Medical Center, said doctors treat at least one or two people each day on PCP.

Sacchetti said PCP users tend to engage in "non-specific aggressive behavior" and are often more of a danger to themselves than to others. PCP users are mostly vocally aggressive, Sacchetti said.

"These tragedies, the last couple of cases, are very unusual for what we're used to seeing," Sacchetti said. "Usually people hallucinate, but they're not that focused. You have to be very focused to cut someone's head off or find someone and slit their throat."

Dr. Matthew Salzman, an emergency room doctor and toxicologist at Cooper University Hospital, said he has never heard of anyone on PCP harming someone. But the drug does break down the connection between the mind and body, he said, leading to "yelling, thrashing and flailing," as well as incoherent speech.
Hence the speculation about "a bad batch" or "potent form" of PCP. Maybe the drug Thomas and Rivera took really was significantly different from run-of-the-mill PCP. But unless they were the only people to consume this hypothesized substance, it clearly does not "cause" throat-cutting violence against children in any straightforward sense. As with the "Miami Cannibal" case (which turned out not to involve drugs at all), the rareness of these crimes undermines the theory that drugs made people commit them. Given the wide gap between the reputation and reality of PCP (and various other drugs that supposedly make people violent), it seems a bit rash to conclude that the murder of children can be reduced to a chemical analysis.
[Thanks to Mark Sletten for the tip.]