Why Excluding Third-Party Candidates From Polling is Stupid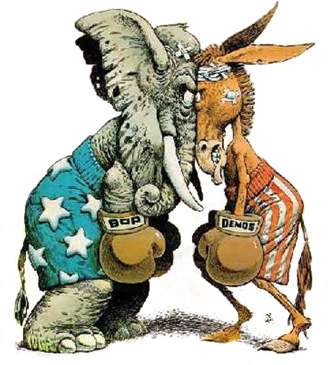 In Colorado, says Public Policy Polling, the presidential race has tightened a bit. From a 49-43 margin in Barack Obama's favor, the race has become a 49-46 contest, with Mitt Romney gaining a little ground. But when Libertarian Gary Johnson is thrown in the mix, he polls at five percent, and turns the race into a 46-44 contest — nominally still in Obama's favor, but that's fuzzy in a poll that has a +/- 3.1 percent margin of error.
The polling firm phrases Johnson's inclusion a little oddly, saying, "We also tested an iteration of the race in Colorado including Libertarian Gary Johnson." But that's not a test — that's reality. A purely Obama vs. Romney contest is the hypothetical in most states, since Johnson is currently guaranteed a presence in 43 states, Green Party candidate Jill Stein is on the ballot in 33 states plus D.C. and Constitution Party candidate Virgil Goode is on the ballot in 21 states. In some of those states, the margin betwen the two leading candidates is too wide to be affected by a percent or two here and there for a minor candidate, but this race promises to be a squeaker in a good many locales.
As a former Virginia congressman, Virgil Goode is being discussed as a complicating factor in that state, with the Washington Post pointing out that "[j]ust 2 or 3 percent of the vote going to Goode could be enough to swing the contest." Johnson obviously plays a role in Colorado, and also in his home state of New Mexico, where two terms as a popular governor have him consistently polling in the double digits (though less as election day approaches) — and also pulling more from Obama than from Romney there. (Stein doesn't yet appear to affect the outcome in a tightly contested state, though she is polling at three percent in the Obama stronghold of Massachusetts.)
The latest national Zogby poll shows a dead heat — unless you include Johnson. Writes Keith Koffler:
In a survey of 798 likely voters conducted August 31 through September 3, Zogby found that if Johnson's name was not mentioned, Obama and Romney were basically tied, with Obama receiving 43.8 percent of the vote, Romney getting 43.5 percent, and 12.7 percent undecided.

But throw Johnson's name in and the numbers shift toward Obama is a way that could swing what is expected to be one of the closest elections ever.

Obama now gets 42.7 percent of the vote compared to 41 percent for Romney, with 4.3 percent backing Johnson and 12 percent unsure.
True, as all too many journalists and pollsters keep telling us in their self-fulfilling way, none of the third-party candidates are poised to seriously contest the presidency this year. But they are in a position to change the way some states fall in the allocation of their electoral votes. That's going to be easy to miss for polling firms who pretend there are only two horses in the race.