California's Delegation Establishes Itself at Convention with Drunken Tirades, Hospital Visits, and Nazi References
Welcome to the folks who tell us we need to be grown-ups about America's future!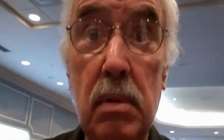 Man, the convention hasn't even started yet and California's delegation is already making a name for itself in Charlotte.
First, on Sunday two delegates returned to the hotel in the morning extremely drunk, so drunk that one of them needed hospitalization. The other one became unruly with hotel staff (and allegedly claimed he was a member of Congress, but L.A. Times' coverage seems to indicate this was not the case). The California Democratic Party asked him to leave the convention.
Then today there is much pearl-clutching over California Democratic Party Chair John Burton's comments comparing GOP VP nominee Paul Ryan to Nazi propagandist Joseph Goebbels. Via Joe Garofoli's blog at the San Francisco Chronicle:
"They lie and they don't care if people think they lie… Joseph Goebbels – it's the big lie, you keep repeating it," Burton said Monday before the Blake Hotel breakfast. He said Ryan told "a bold-faced lie and he doesn't care that it was a lie. That was Goebbels, the big lie."
You can watch Burton's crusty gabbling on video at the link. The Republican Jewish Coalition has, of course, condemned the comparison.
And as a reminder, if the Democratic Convention sucks wind this week, that's California's fault, too. Failed Los Angeles Mayor Antonio Villaraigosa was put in charge of the shindig. You can read Matt Welch explain Villaraigosa's failing upward career trajectory here.