Ted Cruz: Stakes Are Too High To Not Support Romney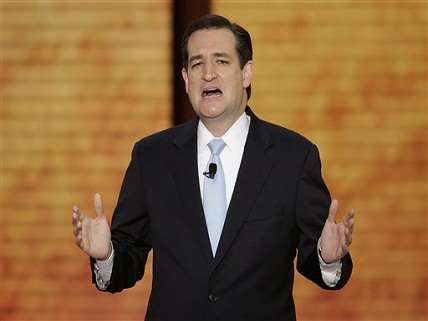 Tampa – After easily winning his primary in July, the Ron Paul endorsed Ted Cruz is well on his way to winning a US Senate seat in Texas. Cruz, a darling of the insurgent Tea Party movement, has rocketed to national stardom in conservative and Republican circles. He got a primetime speaking slot at this year's convention. At a breakfast sponsored by the Iowa Republican Party, Cruz maintained that backers of Congressman Ron Paul need to stay in the Republican Party and not bolt for Libertarian Gary Johnson because "the stakes are too high."
"I understand the passions, but at the end of the day this is about liberty. Liberty will be profoundly threatened if Obama is elected to a second term. I think if the liberty movement stays active in the Republican Party it will help ensure that the Republican Party stands for liberty. The Senate is the battleground. It is so incredibly important we have small-government, free-market conservatives in the party to help ensure that when we win we will hold the party accountable," he said.
Cruz sounded a somewhat apocalyptic tone when talking about the prospect of a second term for President Obama.
"Liberty is threatened right now like never before in our country. A second term for Barack Obama would make us look back to these last three years as the end days of the moderate Barack Obama," Cruz said.
"I think in a second term an Obama administration would have no limits to its attempt to expand government spending, grow our debt, and most importantly expand the control of the federal government over the economy and every aspect of our lives. I feel the damage would be fundamental and profound," Cruz continued. "Any lover of liberty should be horrified at that notion and I believe motivated to do everything within our power to prevent it from happening."
Cruz is facing a former Democratic state representative and Libertarian business owner in a race for the open US Senate seat in Texas. I interviewed his Libertarian opponent earlier this month.