Matt Welch on How American Exceptionalism Routed Paul-Family Foreign Policy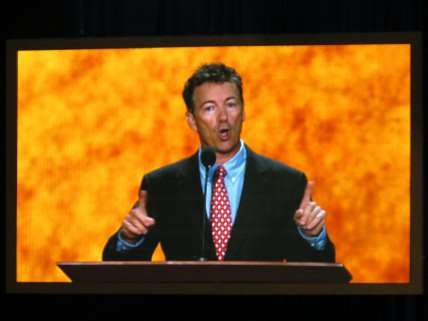 The sentiments Rand Paul expressed last night at the 2012 RNC Convention are new and alien to the modern Republican Party, and would have been driven out of the RNC by a pitchfork-wielding mob as recently as 2004. They are shared by a small but growing portion of the GOP caucus on Capitol Hill. Paul, who three days earlier gave a barnburning speech 11 miles away advocating an audit of the Pentagon and praising his father for popularizing the notion of foreign policy blowback, last night earned unabashed praise from quarters that never could stomach his dad.
So is Paul's political balancing act worth it? Do four carefully worded wind-spitting paragraphs indicate that the Republican Party is inching toward a less interventionist and less costly foreign policy? Last night, writes Matt Welch, answered the second of those two questions, anyway: Oh hell no.