Abortion Rights Protester, Using Pass Obtained From Ron Paul Delegate, Disrupted Paul Ryan's RNC Speech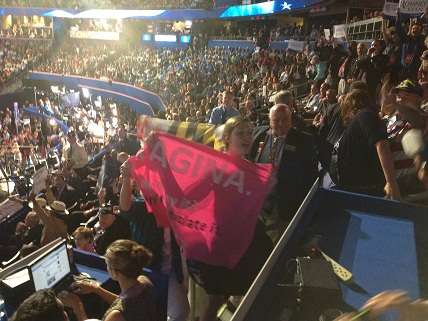 Tampa – A lone abortion rights protester interrupted Congressman Paul Ryan during his vice-presidential nomination speech at the Republican National Convention last night.
"My body, my choice! My body, my choice!" shouted Laura Mills, a Code Pink activist.
Dressed in a purple tank top and black skirt, Mills unfurled a homemade pink banner with the words "Vagina: Can't Say It? Don't Legislate It!" printed in large front.
In an interview on the way out Mills, 21, said the reason for her protest was Ryan's opposition to abortion in the cases of rape and incest. Ryan has sponsored a variety of anti-abortion bills during his time as a member of Congress, earning a 100% rating from the National Right-To-Life Committee. Controversial comments by Missouri Congressman and U.S. Senate candidate Todd Akin have increased the spotlight on Republican positions on abortion rights.
"I do not stand for that," she said.
Mills said she obtained her convention credential from "an angry Ron Paul supporter."
"There are a lot of those," she noted.