Move Over Lance Armstrong! Here are 5 Great Sports Cheaters!
From Rosie Ruiz to Gaylord Perry to She-Male Shotputters, here's a quick list.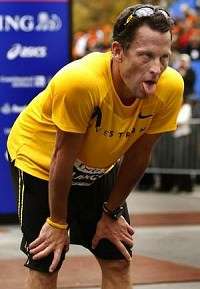 Cycling great Lance Armstrong, long suspected of using performance-enhancing drugs, is being stripped of his record seven consecutive Tour de France titles. The head of United States Anti-Doping Association (USADA), Travis Tygart, has told the press that Armstrong has refused to participate in further hearings on the case, which is taken as an admission of guilt that he used banned substances to win competitions.
From ESPN's account:
"It is a sad day for all of us who love sport and athletes," Tygart said. "It's a heartbreaking example of win at all costs overtaking the fair and safe option. There's no success in cheating to win."
For his part, Armstrong says the USADA doesn't have the power to take away his titles. More to the point, he denies cheating and points to a spotless record of passing all doping protocols during his riding career (the USADA's case apparently rests mostly on testimony from past teammates of Armstrong's).
The International Cycling Union (UCI), which oversees and certifies bike racing around the world, has said that it will wait to hear a detailed report from USADA "before deciding its next steps," setting up a possible jurisdictional fight between the two bodies.
As bureaucratic wheels—and the possibility of an Armstrong vindication—slowly move into action, Reason calls roll for past cheaters in the world of sports. This brief list isn't exhaustive, but it helps illustrate the lengths to which some athletes will go to earn top honors on the playing fields of their choice. Some of them used drugs, some of them used cars (!), and some of them used Vaseline (!!!).
And some of them even got away with it.
NEXT: Surprisingly, Heartbreak Hill isn't so heartbreaking in a car…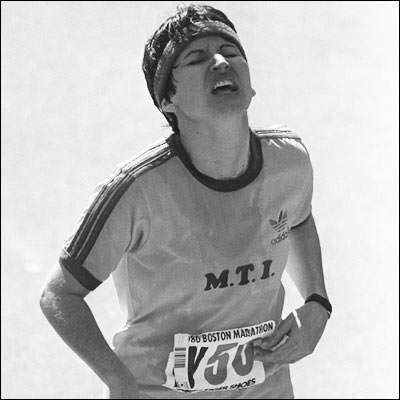 5. Rosie Ruiz, 1980 Boston Marathon winner
Cuban-born Rosie Ruiz landed in America in 1962, part of the Castro-induced diaspora.
She ended up taking first place at the 1980 Boston Marathon in a record time that was a whopping 25 minutes faster than her clock speed at the 1979 New York Marathon. Then it quickly became clear she hadn't run the whole 26.2 miles (she would retroactively be kicked out of the New York Marathon, too).
Ruiz's secret? She only joined the race about a half-mile from the finish line, busting through a crowd of spectators as a pack of male runners pushed by. Her post-scandal highlights include busts for embezzlement and cocaine sales.
Among the legacies of Ruiz's fakery are RFID surveillance check points used to keep roadrunners on the up-and-up. According to Wikipedia, that Ruiz-inspired system snagged a bunch of charity runners called "Jean's Marines" in the 2005 D.C.-based Marine Corps Marathon. Gomer Pyle wept.
Related: The incredible story of Fred Lorz, who "won" the gold medal in the 1904 St. Louis Olympic marathon by hitching a ride for 11 miles and literally walking the final 6.2 miles.
NEXT: I spitball on your grave…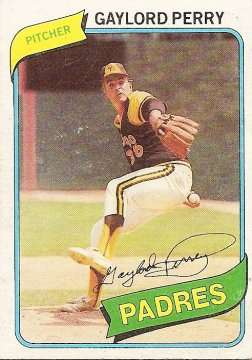 4. Gaylord Perry, Hall of Fame baseball pitcher
The win-loss record of Gaylord Perry—he went 314-265 in a 22-year major-league career—is impressive enough on its own. But even more impressive is the fact that in the thick of his career he published a book called Me & The Spitter: The candid Confessions of Baseball's Greatest Spitball Artist (or How I Got Away With It).
The spitball was banned by the bigs in 1920 and most outlaw practitioners of the dark art denied it all the way to the locker room, if not the grave. Those who didn't at least had the good grace to wait until retirement until blabbing (see Preacher Roe, the Dodgers hurler, whose 1955 confessional article, "The Outlawed Spitball Was My Money Pitch" appeared only he'd left the game).
Yet Perry's 1974 memoir rubbed his cheating in the face of league officials the same way he rubbed baseballs with tobacco juice, Vaseline, and whatever else he managed to stash in his jockstrap. As the must-visit site Carboard Gods notes, Perry only got caught tossing a spitter in a game in 1982, in his second-to-last appearance in big league baseball.
More incredible still, he was elected to the Baseball Hall of Fame in 1991, a feat that should give hope to the Barry Bonds, Mark McGwires, and Sammy Sosas of the world that they too will eventually enter Horsehide Valhalla someday.
NEXT: Two sisters who were doing it for themselves. Except that they were probably brothers…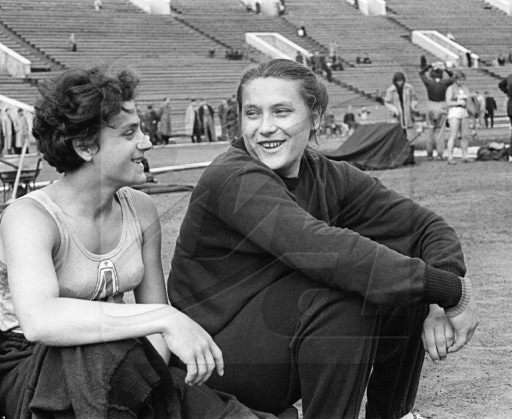 3. Tamara and Irina Press, Soviet Olympic Champions
The Press sisters were born in Ukraine in the later 1930s and rose to international track and field stardom in the 1960s. In the 1960 Summer Olympics in Rome, Irina (on left in picture) won gold in the women's 80-meter hurdles and Tamara (right) took silver in the discus and gold in the shotput. In 1964, Irina snagged silver in the hurdles and gold in the first women's pentathlon, while Tamara took first place in both the shotput and discus. All told, the Presses set more than two dozen world records in various events.
In 1966, the European Championships introduced chromosonal testing as a means of checking the gender of competitors. The Soviets withdrew the Presses from that and all future international competitions, which was widely seen as an admission that the sisters were either brothers or the recipients of massive shots of hormone injections.
NEXT: Why Beavers no longer rule Manhattan…and college basketball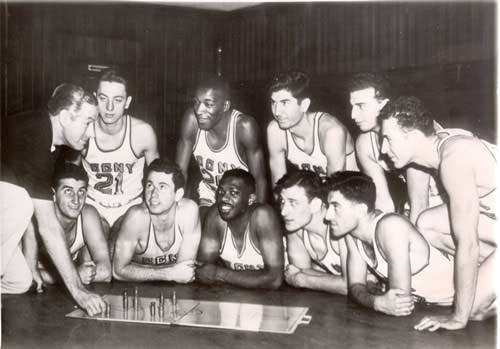 2. 1950-51 City College of New York point-shaving scandal
As hard as it is to believe now, there was a time when the City College of New York (now known as CUNY) was a college basketball powerhouse, along with other improbable juggernauts such as New York University, Manhattan College, Long Island University, and Bradley University. The CCNY Beavers won both the 1950 NCAA tournament and the 1950 NIT post-season tournament (at the time, a more prestigious title).
But in early 1951, a New York City district attorney arrested four players for shaving points at the behest of oddsmakers (three of whom were also arrested).
Ironically, the CCNY players didn't apparently throw games (as did some jocks at Long Island University), but their actions were nonetheless prohibited by law. CCNY, LIU, and some of the other schools de-emphasized their sports programs in the aftermath. Kentucky, which went on to win the 1951 title and was then under the direction of legendary coach Adolph Rupp, was suspended for the 1952-53 season.
NEXT: Shirley Babashoff, thou art avenged…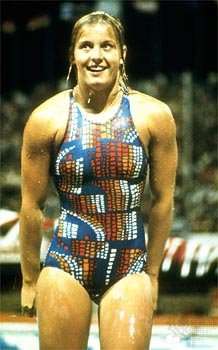 1. East Germany's 1976 Olympic Women's Swim Team
There's little question that the Olympics was a far more interesting—if disturbing—spectacle during the Cold War, when the Winter and especially Summer games functioned as a proxy for dueling political and economic systems. Despite some previous successes in international sports, the German Democratic Republic (GDR), a.k.a. East Germany, wasn't exactly a powerhouse. But in the 1976 games in Montreal, the communist country racked up medal after medal, especially in women's swimming, where GDR swimmers won an amazing 11 of 13 events.
The East German athletes and coaches chalked their success up to the moral and material superiority of a system that used scientific methods to identify, promote, and train athletes. American women swimmers, who had expected to grab baskets of gold, complained of unfair advantages ranging from then-illegal pay-to-train schemes to drug-and-hormone therapies. The Americans were widely dubbed sore losers as their only victory came in the 4×100 freestyle relay. One of the team's unofficial spokesmen, Shirley Babashoff, was even dubbed "Surly Shirley" (her mood turned even worse when the U.S.A boycotted the 1980 summer games, thereby killing her and her teammates' shot at a rematch).
Flash forward past the fall of the Berlin Wall and the disintegration of the GDR. As it happens, declassified Stasi files document the mass doping of East German athletes by coaches and trainers from about 1974 through the regime's collapse in 1989. The East Germans might not have been able to create a decent car or rock star, but they were indeed miles ahead of the free West when it came to the development and implementation of performance-enhancing drugs. "State plan theme 14-25" produced especially strong results in the pre- or near-pubescent girls on East Germany's swim team whose natural hormone levels—and confidence in an all-powerful state—were boosted big time. As one swimmer put it, "Drips, injections, pills, it was all normal (during training). Nothing strange about it and I wouldn't have known what to ask because I wasn't skeptical at all. I didn't start to look like a man overnight, it happened gradually. I wasn't really aware of it myself but it was obvious to everyone else. And whether I wore a dress or a skirt, make up or jewelry, it got worse and worse. They called me a transvestite or gay, and it shocked me."
Despite the revelations, the International Olympic Committee has chosen not to revisit results involving East German athletes.
Is your favorite proven or suspected cheater missing? Just the Olympics alone have got a ton! Talk 'em up in the comments below.