Misreading the Tea Party
A new book misunderstands the libertarian-leaning portion of the Tea Party movement and exaggerates the importance of the movement's social conservatives.
The Teavangelicals: The Inside Story of How the Evangelicals and the Tea Party are Taking Back America, by David Brody, Zondervan, 272 pages, $22.99.
In The Teavangelicals, Christian Broadcasting Network correspondent David Brody sets out to persuade readers of an already well-known fact: Many Tea Partiers are socially conservative Christians. He calls these conservatives "Tea-vangelicals" and argues that they are reinvigorating the religious right. Brody supports this thesis with anecdotal evidence taken disproportionately from the South, and he does not reach a convincing level of intellectual rigor. But he does get across an often-overlooked fact about the Tea Party movement: that it is a coalition compromised in roughly equal proportions of social conservatives and activists who lean toward libertarianism.
Alas, Brody tends to misunderstand what libertarian-leaning Tea Partiers believe, what drives them, and why they are allied with evangelicals. In turn, he misinterprets the evangelical half of the Tea Party milieu and its impact on politics. And then, having misread the movement, he urges it to shift some of its focus toward social issues. Having done research of my own in this area—most recently, a paper written with David Kirby for the Cato Institute—I can't endorse Brody's Tea Party portrait.
Brody assumes libertarians are all Randians, declaring that Ayn Rand's "philosophical views are at the core of libertarian belief" and that "the very nature of libertarian thought and the Tea Party movement as a whole is derived from [Rand's] philosophies." He then concludes that, since Rand was an atheist, most Tea Party libertarians are atheists too. He also assumes that libertarian-leaning Tea Partiers are consistent libertarians across the board, writing that they "pretty much want government to stay out of the way on everything including social issues (drugs, abortion, gay marriage, prostitution, drugs, gambling, and so on)."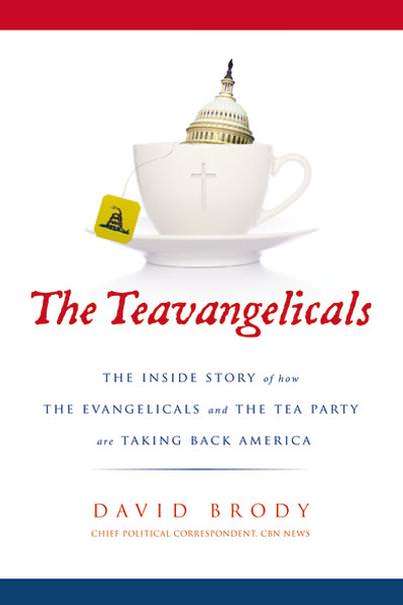 This interpretation is absurd. There is no evidence that half the Tea Party movement subscribes to Rand's Objectivist philosophy. Nor does such a large group want to legalize drugs and prostitution. Libertarian-leaning Tea Partiers are clearly distinct from social conservatives in that they are very fiscally conservative and also socially moderate or even liberal; they do not believe it is the government's role to promote traditional Biblical values. But that does not mean they take this as far as the typical reader of Reason.
Brody states, correctly, that libertarian and evangelical Tea Partiers both favor a return to constitutionally limited government. But then he declares that this is synonymous with "a return to Judeo-Christian principles." How exactly is constitutionally limited government a return to Judeo-Christian principles? How does Brody define Judeo-Christian principles, and how does he conceptualize constitutionally limited government? He might be correct that some evangelical Tea Partiers joined the movement to advocate Judeo-Christian values, but this does not likely explain other Tea Partiers' goals, or the goals for the movement as a whole.
Brody also overinterprets evangelicals' role in the Tea Party movement by claiming evangelicals who enter politics are necessarily a part of the Tea Party: "when a pastor decides to engage in the economic, social, and moral issues of the day, then that pastor turns into a 'Teavangelical preacher.'" This may explain why Brody somehow designates former Arkansas Gov. Mike Huckabee, who raised taxes in his state 21 times, and former Pennsylvania Sen. Rick Santorum, who voted for Medicare Part D, No Child Left Behind, and raising the debt ceiling six times, as Teavangelical heavyweights. My research with David Kirby concludes that the Tea Party is very fiscally conservative. So does the research of the Harvard political scientists Theda Skocpol and Vanessa Williamson. It is hard to argue that either Huckabee or Santorum is very fiscally conservative.
Although Brody contends that these religious figures are Tea Party, he also argues these Teavangelical preachers will not "suddenly start to change their preaching style by concentrating on Tea Party–type issues like the debt or national healthcare. Some of their sermons may touch on these issues, but that isn't their main goal." Yet Kirby's and my analysis of dozens of national and local surveys, as well as our interviews with Tea Party leaders throughout the country, indicate that the movement's main goal is economic, not social. For instance, a New York Times/CBS News poll found that only 14 percent of Tea Party supporters believes that social issues are the most important issues facing the country.
Since Brody is overly inclusive in whom he defines as Tea Party, he finds more evidence of religious political activism than is really there, concluding that "Tea Party rallies are the next wave in [the religious right] revolution." But 46 percent of Tea Partiers either have not heard of or report no opinion about "the conservative Christian movement sometimes known as the Religious Right." Moreover, less than half of Tea Party supporters attend church every week and consider themselves evangelical. Given that, it's hard to argue the Tea Party is a reincarnation of the Religious Right. It is distinct, unique, focused on different issues, and comprised of a different coalition of individuals.
On a side note, Brody has kind words for two libertarian-leaning politicians, Texas Rep. Ron Paul and his son, Kentucky Sen. Rand Paul. The senior Paul, Brody writes, "will go down in American history as a man whose ideas challenged the status quo and changed the conversation in this country. He's considered the godfather of the Tea Party, and his trendsetting economic message of fiscal responsibility ushered in Teavangelical support." And indeed, Ron has significantly shifted the conversation in this country, as has the Tea Party movement that he helped inspire. But his impact has been felt in fiscal issues and foreign affairs, not culture-war battles.
There surely are some Tea Party activists who conform to Brody's stereotypes of Randian libertarians and reincarnated Religious Rightists. But this picture does not comport with more systematic analyses of the Tea Party milieu. The movement is comprised of very fiscally conservative Americans, of which about half are socially moderate to liberal and the other half are socially conservative. It is their fiscal conservatism that unites them, distinguishes them from previous conservative movements, and has impacted the political debate.