More Liberal Concern Trolling on Paul Ryan: He Questioned the Integrity of Military Leaders!
He didn't cut military spending, but he questioned whether the Pentagon needed as much as it said it did. That's controversial?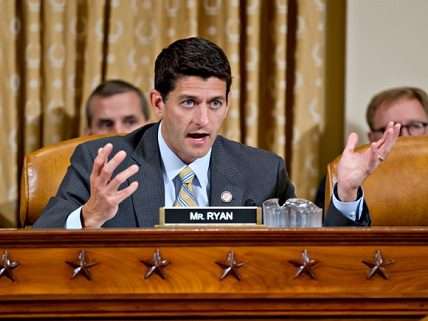 Obama apologists are looking for anything they can to throw at Congressman Paul Ryan, selected by Mitt Romney this weekend to be his running mate, and Steve Benen at Rachel Maddow's blog has found something new:
The incident has been largely forgotten, but in the spring, Ryan, in his capacity as chairman of the House Budget Committee, insisted that he — and not America's military leadership—should be trusted when it comes to defense spending levels that keep Americans safe. Ryan went on to say, without proof, that he suspected Pentagon leaders may have been deliberately misleading Congress.

Army Gen. Martin Dempsey, chairman of the Joint Chiefs of Staff, was not at all pleased with the right-wing congressman. "There's a difference between having someone say they don't believe what you said versus … calling us, collectively, liars," Dempsey said at the time about Ryan. (The lawmaker later said he "misspoke." A closer inspection shows otherwise.)
Paul Ryan's famed budget was not serious about cuts to military spending and he questioned the military brass' sincerity as a way to increase military spending by more than the president had requested. As economist Veronique de Rugy noted in a review of Paul Ryan's budget proposal earlier this year:
It reneges on sequestration-induced reductions in military spending (it finds the "savings" elsewhere). I think a serious plan would put everything on the table. More importantly, this will guaranty that no one in their right mind will ever agree to make a deal with Republicans since they will turn around and try to change the terms of the contract they don't like. If they didn't want defense cuts, they shouldn't have made them part of the debt ceiling deal.
Paul Ryan may have been channeling a little bit of his own inner George Romney in questioning the sincerity of what military leaders told Congress. In the late 60s, before the full folly of the Vietnam War was widely known, questioning the intentions of military leader was actually a candidacy-ending "gaffe." The story, from the Minnesota Post:
[T]he other thing we usually hear about Romney's political demise is that he was ruined politically because he had confessed to being "brainwashed" in Vietnam. Romney's "brainwashed" statement ranks pretty high in the list of famous political gaffes, so much so that you might not know that Romney's statement made perfect sense and that he was obviously using "brainwashed" as a perfectly reasonable metaphor…

Romney had said in 1965, after a visit to Vietnam, that the U.S. involvement there was "morally right and necessary and had probably reversed a shift in the balance of power greater than If Hitler had conquered Europe." Pretty strong stuff and an example of the kind of idiocy that got us so deeply into that war…

In 1967, as he prepared to challenge President Lyndon Johnson, Romney took a completely different position that U.S. involvement in Vietnam had been a mistake from the beginning. In a TV interview with a Detroit station, he was confronted with the previous statement and basically accused of a flip-flop. (Plus ca change.)

Romney replied: "When I came back from Viet Nam, I'd just had the greatest brainwashing that anybody can get." He added that after the trip, he made a deeper study of the history of the conflict and concluded that it had been a "tragic" blunder to get U.S. troops into an Asian land war and that in fact it hadn't been necessary to send U.S. soldiers to prevent a Chinese takeover of Southeast Asia.
Now there's a lesson for Mitt Romney, Paul Ryan, Barack Obama and even Joe Biden: study history and question what you're told by those with staked interests.
Less than five years ago, liberal partisans at MoveOn.org labeled the current Democratic president's CIA director "General Betray Us." Back then David Petraeus was in charge of the Republican president's Iraq war, and the sincerity of his testimony on the progress of that war was questioned. He was even accused of "cooking the books." Since then, he's become President Obama's top man in Afghanistan before being appointed director of the CIA.
Today, a Republican vice presidential candidate who made no cuts to military spending is being attacked for daring to state the obvious, that military leaders may embellish the facts to guarantee bigger and bigger budgets for themselves.
Principles? So long as your party wins!